Bulldog girl cagers rebuilding with blend of experience, youth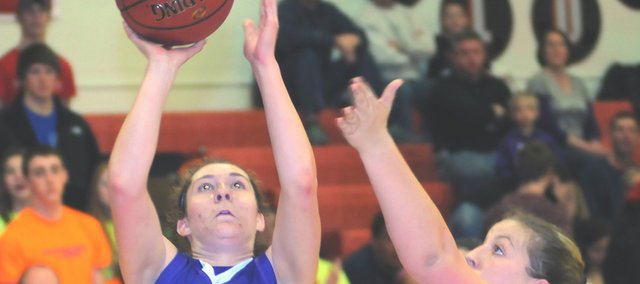 Baldwin High School girls basketball coach Bob Martin will field a much different kind of team than the one he put on the floor last year.
A year ago, the Bulldogs returned all starters with a core of experienced seniors, including point guard Kailyn Smith, post players Katie Kehl and Jessie Katzer and top reserves Callie Enick, Kaitlin Jorgensen and Kelsey Dighans. The team battled to the sub-state finals before falling to Paola.
"They had a lot of success," Martin said. "They are going to be very hard to replace."
This year, Baldwin returns only three players who logged significant minutes a season ago. But, all three were key pieces of the team and regular or part-time starters.
A key returner is 5-8 senior guard Katie Jones, who led the Bulldogs in scoring last year. Senior 5-4 guard Hailey Cope also returns and 5-11 junior Maddie Ogle gives the team versatile height at forward.
Three other returning players who saw varsity action off the bench last year are 5-9 senior Karina Steinke, 6-1 junior Alexia Stein and 5-10 junior Corey Valentine.
"Corey and Alexia are coming off a successful volleyball season. I think that helps," Martin said. "They are going to play big roles for us this year."
A deep and talented sophomore class, which went undefeated as freshmen, could add depth as the season progresses, Martin said. Among those vying for minutes will be 5-5 Kyna Smith and 5-6 Madeline Neufeld, he said.
With Stein, Ogle and Valentine and 5-10 sophomores Lily Fursman and Meghann Strobel, the 2013 Bulldogs will have more height than any team Martin has had at Baldwin, he said.
The team is also athletic, if not necessarily fast, Martin said. It will have to improve its entry passes to the post and intensity on defense to have success, he said.
With the inexperienced starters and young reserves, Martin said the team will have to make significant improvement during the season. He is confident it will and hit its stride in January and February.
It will have to as it battles through a tough Frontier League.
Paola is entering the season the Frontier League favorite and one of 4A's top-rated teams. Louisburg will also be tough, as will De Soto, which may have the league's best player in 6-1 junior Megan Bonar.
"It will be a challenge. The Frontier League is always a challenge," Martin said. "Friday night will be a challenge.
Friday's opening night opponent will be Jefferson County North, a recent 2A power that won the state championship in 2012 and was runner-up in 2013. Martin said Jeff North returns all five starters, including a 2A all-stater.
The girls will have a busy early schedule, paying in the annual Burlington Wildcat/Baldwin Bulldog Classic next week. The tournament will be played at Baldwin with the Bulldogs opening at 6 p.m. Monday against Chanute and then facing off at the same time Wednesday against Iola. The team's third match up will be determined by how they fare in those first two pool games.