Love of Alpaca expands to business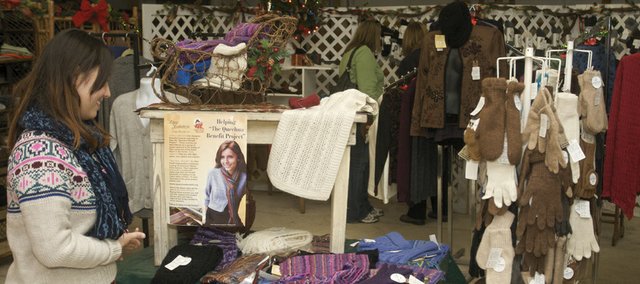 Dee Killough traveled Friday from Ottawa to Ad Astra Alpacas to buy a second pair of socks from the farm's shop.
"I love this place," she said. "I love these socks, because I'm always cold."
Claudia Hey, who owns the farm and shop with her husband, Bob, said Killough wasn't alone. A group of hunters bought may pairs of gloves and socks recently as she was getting ready for what turned out to be a very busy annual holiday open house Saturday and Sunday.
The Heys opened a shop five years ago filled with alpaca fiber products to help customers fight the chill of winter. That was about four years after the couple first bought three alpaca for the farm just south of Baldwin City. An animal lover, she decided to raise alpaca on the dairy farm of her childhood because she knew they wouldn't end up on the dinner table.
"I fell in love with them," Claudia Hey said. "They're caring and inquisitive. They're such lovable critters. I can't imagine not having them now."
The farm's alpacas now number 60. And it is the fiber shorn from the animals in April or May that provides the material for most of the products sold in the shop.
Realizing that the merchandise has a seasonal appeal, Hey opens the shop the first weekend in October when the Kaw Valley Farm Tour visits Ad Astra Alpacas. It is then open from 9 a.m. to noon Saturdays, 1 p.m. to 5 p.m. Sundays and by appointment through the end of February.
Inside, shoppers will find sweaters, socks, scarves, gloves, mittens, hats and other alpaca fiber products.
That word fiber is important to Hey because it helps distinguish the fleece shorn from her alpacas from the wool sheep produce.
"Alpaca fiber doesn't have lanolin like sheep wool that gives wool a greasy feel when new," she said. "People who say they are allergic to wool may just be reacting to the lanolin.
"There are a lot of very nice wools out there, but alpaca fiber is always lighter and just as warm. It doesn't have the memory or bounce-back quality of wool."
The farm's alpacas produced 550 pounds of fiber when shorn last spring, Hey said. Most of the fiber was shipped to a processing center in Fall River, Mass. There, it entered a pool from which Hey can order products for her shop.
Knowing what to order takes thought, Hey said.
"One thing I've learned from having the shop is you have to know what the clientele likes and what's important to them," she said. "I've learned what works over the years. I kind of start with that and try to introduce one or two things into the shop each year."
For example, shoe inserts, which keep feet warm because of the fiber's ability to wick moisture away from skin, were a popular addition.
New this year are stuffed alpaca dolls bought from an English woman who shares a love of alpacas and the last name of Hey. The dolls allow her to offer something for children besides expensive clothing that customers are reluctant to buy because the items will soon be outgrown, Hey said.
The shop also imports sweaters.
"I buy them from a little mountain village in Peru," Hey said. "The reason I do is they are masters at this. They've been doing this for 5,000 years.
"If I bought them from the U.S., they would cost $300 to $400. That might work in a place like Aspen, but I don't think there are many in Baldwin City who would go for that."