Baldwin football squad senior rich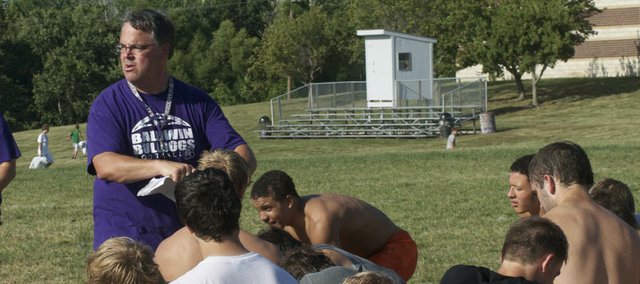 With 16 years experience as Baldwin High School head football coach behind him, Mike Berg knows the value of seniors.
"They have the game experience. They're stronger. They are that much more mature."
The Bulldogs return 16 senors from last year's 7-4 team that advanced to the second round of the 4A state playoffs. That is the largest number of seniors since 2010,
"That was a very good year for us," Berg said. "I'm excited about having that many seniors."
The Bulldogs only lost seven seniors to graduation last year. But it was a quality class, which included Kansas State recruit and first-team 4A All-State selection Dayton Valentine.
Nonetheless, the offense is dotted with seniors and starters, especially along the all-important offensive line.
"I always base our offense on linemen," Berg said. "When we have many linemen coming back, I think we'll be pretty good."
Senior Reece Randall will join the unit that includes returning starters senior Colton Stark, junior Tyler Davidson, junior Christian Gaylord, who owns an offer from K-State, and senior Quinn Twombly, who at 6 foot, 4 inches and 240 pounds is 3 inches taller and 35 pounds heavier than last fall.
"He worked hard in the weight room," Berg said. "All these guys have a great work ethic. They are eating healthy and working out."
Coach's son Chad Berg will move to behind center from the wide receiver position, where he earned All-Frontier League honors as a sophomore before missing much of last year with a broken chin suffered in the opening game.
His son has been quarterback in the past and is an effective passer, Berg said. He will lead an offense that will be balanced in both run/pass and in distributing the ball, the coach said.
Also back is senior Cornell Brown, who will play at tailback and wide receiver. Brown led the team in rushing last year with 1,486 yards and 15 touchdowns. Many of those came after he was moved to quarterback with a mid-season injury to last year's senior starter Tyler Cawley.
The plan is to spread the ball around in the ground game this season, Berg said.
"Cornell showed last year he's physically capable of carrying the ball 25 times a game," he said. "We're looking for more balance with everybody getting touches so we're not beat up at the end of the year."
Also returning is the Bulldog's leading yardage receiver Luke Fursman, who caught 15 catches for 342 yards and four touchdowns during his junior campaign.
The defense returns nine starters, including Stark, who led the team in tackles last year with 93. It will run the same scheme as last year, Berg said.
"It gives us consistency," he said. "The kids learn it faster and can just react instead of thinking out there."
Berg singled out Eudora, who was 4A state runner-up the past two years, as the team to beat in the Frontier League. The Cardinals will be under new guidance with new coach Kevin Kopecky replacing Gregg Webb, who departed for Truman High School in Independence, Mo. Kopecky was head coach at 5A St. Thomas Aquinas before coaching at Leavenworth the past three years.
Coaching changes are something of a trend this year in the league with De Soto, Louisburg and Ottawa also under new leadership, Berg said.
The Bulldogs open Sept. 6 at Wellsville. Baldwin defeated Wellsville 33-6 last year.