Midland Railway Railfest has full slate of Labor Day Weekend activities for train buffs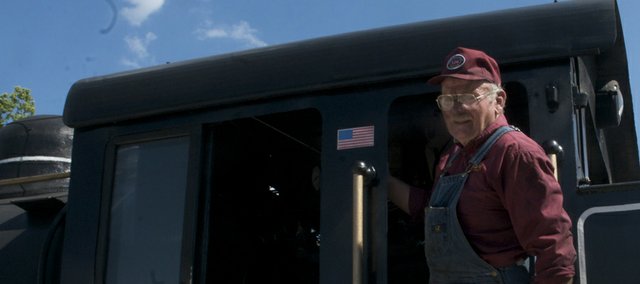 Allen Kinsley advises Baldwin City residents alarmed this weekend with the sight of smoke rising from the Santa Fe Depot area not to call the fire department.
The smoke will not be from a fire but billowing from the stack of a restored steam locomotive, and it's hoped it will be a signal to train buffs to attend Midland Railway's annual Railfest.
The event will be Friday through Monday at Santa Fe Depot Park, 1515 High St. As suggested by its "Back in Steam" title, the highlight of this year's event will be the presence of the steam-powered locomotive Hank.
Kinsley, Midland Railroad marketing director, said Railfest would start Friday, but activities that day would be limited to the sold-out at-the-throttle rides, which will allow train enthusiasts to take over supervised control of Hank for 30 minutes at the cost of a $150 ticket.
Rides behind Hank in vintage passenger cars or on an open-air car, which will provide a view of the locomotive's operation, start on Saturday and continue through Monday, Kinsley said. The rides will depart Baldwin City at 9:30 a.m., noon and 3 p.m. for 11-mile round trips to Norwood, which is the limit of Hank's 1,200-gallon water tank.
Rides behind Midland Railway's diesel engine will also be available at 11 a.m. and 2 p.m. Saturday, Sunday and Monday. Those rides will be to Ottawa and back, Kinsley said.
Once again this year, passengers will be able to watch retired postal clerks sort mail in a Kansas City Southern Post Office car, Kinsley said.
Examples of past and modern track maintenance equipment will also be on view. New this year will be the opportunity to ride on a motor-car cart of the kind railroad crews once rode as they performed routine track maintenance, Kinsley said. For a modern take, V&H Truck Inc. of Gardner will display on-rail fitted trucks and maintenance equipment.
Also on the grounds will be a gift shop, model train display and food vendor, Kinsley said.
Hank's presence and the other weekend events are not only part of an important fundraiser for Midland Railway but a chance for it to fulfill its mission, Kinsley said.
"Midland Railway is a nonprofit organization," he said. "This is one way to bring people in and do the things we're chartered to do, and that is educate people on the history of railroads.
"Steam locomotives haven't been used on the rails since the late 1950s. This will be the second time in 62 years a steam locomotive has been on these tracks."