Bulldog Bash tickets, T-shirts on sale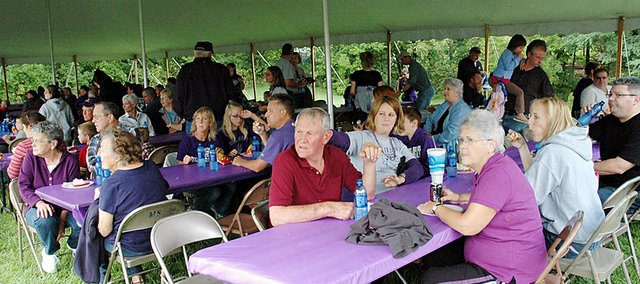 Just as practice makes for wins on the field, preparation makes the annual Baldwin High School fall sports fundraiser Da Bash successful.
Robin Crabtree, Da Bash Committee chair for the Baldwin High School Booster Club, said the committee had an extra week to plan this year with the Bulldog football team opening on the road Sept. 6 at Wellsville. As is the tradition, Da Bash will be before the Bulldogs' home opener Sept. 13 against Paola.
Once again, Baldwin City's biggest tailgate party will be available to those purchasing $25 tickets from any of the junior high or high school organizations selling them, Crabtree said the organizations will keep $17 of the ticket price with the Booster Club getting the rest.
The event will start at 5 p.m. at Liston Stadium with Baldwin City's largest tailgate party, Crabtree said. There will be an expanded menu at Da Bash, featuring hamburgers, hotdogs, baked beans, chips, cookies and water, she said.
The pre-game activities will also feature performances by the Baldwin High School Marching Band, junior high and high school cheerleading squads and the BHS dance team. It will conclude with fans and student body greeting the team's arrival at Liston Stadium. In addition, Crabtree is promising "surprises."
The theme this year is Dawg Dynasty, which Crabtree candidly admits was borrowed from the popular reality TV show "Duck Dynasty." As such, the T-shirts sold in conjunction with the event are of a purple camo design, she said.
T-shirts can be purchased at Santa Fe Market at the corner of U.S. Highway 56 and Sixth Street. They are $10 for sizes small through X-large, $15 for 2XL and $14 to special order sizes 3XL to 5XL, she said.