Baldwin High soccer team to face early tests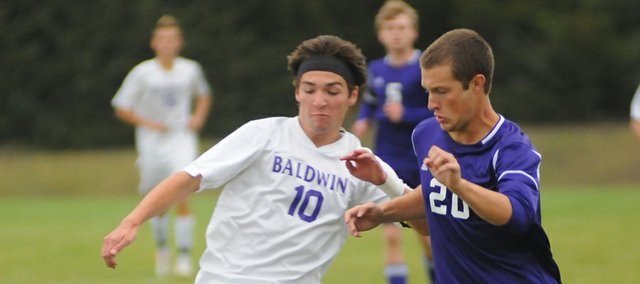 The Baldwin High School soccer team will get tested early in its quest to earn its third straight state tournament berth.
The Bulldogs will open Friday at Tonganoxie, a school that also has earned back-to-back state tournament trips and was the 4-1A state runner-up last fall. Also early on Baldwin's schedule are Sept. 5 and Sept. 12 matches against Spring Hill that bookend a Sept. 10 home contest against nemesis De Soto, a team that beat the Bulldogs twice last year. Baldwin defeated Spring Hill last year is the sub-state finals before losing to Kansas City Christian in a penalty kick shootout in the state quarterfinals.
Baldwin's success against two of those early opponent, De Soto and Spring Hill, will be very important in the Frontier League race. Coach Mark Joslyn expects the Bulldogs to be at the top of the league with the two Johnson County schools and Louisburg.
The Bulldogs return a good portion of firepower from last year's squad. At the top of the list are senior team captains Nick Joslyn and Russell Cloon. However, coach Joslyn said there were a number of other players capable of scoring goals, including junior Joel Dixon, junior Oliver Elphick, senior midfielder Duncan Murray, junior midfielder Noah Pippert and sophomore Brendan Owings. Dixon and Murray were made the Kansas Coaches Association Southeast All-Regional Second Team last year.
"I hope we score a lot of goals and think we will," the coach said.
Joslyn is promising an aggressive, trapping defense for a team that lost defensive mainstays in goalkeeper Mason Bandré and defender Austin Kraus. Starting at goal Friday will be senior Tyler Courtney, while Hunter Young, who has be looking good in practice, will take Kraus' middle-back spot
"We want to force people to certain spots on the field, recognize those spots and then take the ball away," the coach said.
Nick Joslyn said the team was ready to start the season.
"We have pretty high expectations as a team," he said. "We would like to do at least as well as last year — and beat De Soto."
Baldwin opened its season last year with a hard-fought 2-1 victory against Tonganoxie. The Bulldogs trailed, 1-0, at half before scoring twice early in the final period. It was a game of contrasting styles with the Bulldogs depending on passing and quickness and Tonganoxie relying on a physical game.
"I expect the exact same thing from them," coach Joslyn said. "The key for us is to keep the rhythm going and moving the ball — don't get into the physical play or fouling, but stay clean and move the ball like we do in practice. If we do that, we're a very good team."