Baker selects 2013 Hall of Fame inductees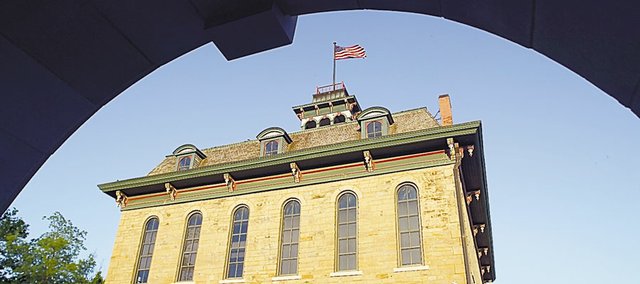 Five former Baker University standouts will be inducted into the school's Athletic Hall of Fame at 6 p.m. on Oct. 4. The Baker University Athletic Hall of Fame Induction and Awards Banquet will be at the Overland Park DoubleTree by Hilton Overland Park hotel.
Baker will recognize current NAIA All-Americans, Daktronics-NAIA scholar-Athletes, Capital One Academic All-Americans and Heart of America Athletic Conference first-team performers.
The Hall of Fame class for 2013 is:
Jim Dick, 1963
Jim Dick was a two-time conference champion in the long jump and set a school record in that event. His best jump of 23 feet, 5.5 inches ranks fourth in Baker history and that mark ranked 11th nationally in the NAIA in 1963. After graduating, he became an admissions director at colleges in Colorado and Tennessee before co-founding and becoming CEO of Career Communications Inc. of Overland Park. Jim Graduated from Oakley High School, where he earned letters in football, basketball and track.
Jerry Jones, 1964

Jerry Jones coached men's basketball for 17 years at Kansas Wesleyan and five years at Indiana University-South Bend, setting school records for victories at both schools. He finished with 224 victories at Kansas Wesleyan, where he won conference championships in 1986 and 2000 and was recognized as conference coach of the year both years. At South Bend, he recorded 100 victories. In 2007 he was inducted into Baker's School of Education Wall of Honor for his achievements in education.
Meghan Lewis Houtsma, 2002
Meghan Lewis Houtsma was Baker's top golfer for four years and served as the team captain from 2000 to 2002. She placed first or second in more than 20 tournaments, including three conference and regional titles. Houtsma qualified for four NAIA national tournaments, placing as high as second while earning three All-America honors. After graduating from Baker, she earned a law degree from the Washburn University School of Law. She is a staff attorney for Syracuse Dairy LLC.
Bob Peters, 1970
Bob Peters was a four-year letterwinner in track, competing in the shot put, discus and high jump, and lettered one year in football. From 1997 to 2011, he excelled as a shot putter in senior competition, becoming an 11-time USA Track & Field All-American. He won 46 state shot put championships, broke 35 five state and local meet records and one national meet record. In 2002, 2004 and 2008, he was ranked fifth in the United States and in 2008, he was No. 8 in the world. He established a veterinary practice in the Kansas City area, where he has worked for 35 years.
Johnie C. Seals Jr., 1980
Johnie Seals was a four-year letterman in basketball and finished with 1,307 career points, a school record at the time. He set school records with 153 free throws in one season and an 84.1 percentage for free throws made. He finished his career with a free-throw percentage of 81.1 percent to set a school record. During his senior year, Seals led the team in rebounding and blocked shots to earn first-team all-conference honors. Professionally, he has worked in accounting and information technology. He has spent the past 15 years working as an IT specialist for the Williams Companies and at IBM. He graduated from Booker T. Washington High School in Tulsa, Okla., before his collegiate career.
For tickets to the induction ceremony, email kmccrary@bakeru.edu or call 785-594-4555. RSVP to Kathy by Sept. 23.