Baker enrolls largest freshman class in four years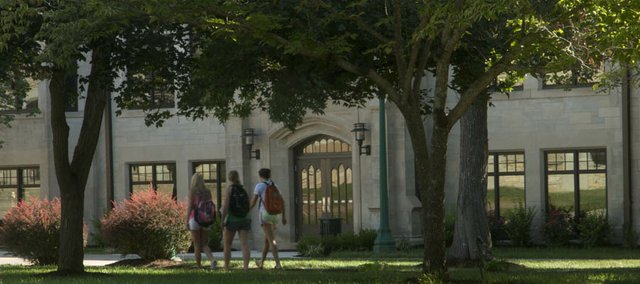 New friends Lulu Ruding and Shelby Stephens, spotted walking together on
the Baker University campus Monday, said sports scholarships had much to
do with their decisions to enroll at the school.
Ruding, a freshman from Enid, Okla., is a member of the tennis team,
and Shawnee freshman Stephens is on the school's cross country and
track teams.
The two are part of the university's largest freshman class
since 255 enrolled in 2009, said Kevin Kropf, senior director of
admissions. The university has 235 freshmen this
fall, an increase of 24 students from a year ago. Total enrollment
stayed steady at about 900 students, he said.
The first year of the school's bowling and wrestling programs helped
boost freshmen enrollment in 2009, but Kropf said it declined in the
three following years because there were no new programs or
initiatives to sustain that success in a sluggish economy.
Kropf attributed much of this year's increase in freshmen to a
marketing and recruiting focus on last fall's completion of the
Mulvane Hall renovations, which included the addition of the Ivan Boyd
Center for
Collaborative Science Education.
"Pre-health and science students make up 20 percent of this year's
freshman class," he said. "We had a special visitation program called
'Celebrating Science Day.' Eighty-two percent of those who attended
later enrolled."
While the university will continue to focus on science education, it
also will emphasize the school's value, Kropf said. Such things as
the school's recent inclusion on a list of top-100 Midwest schools
help with that effort, but university officials promote the school's
No. 1 graduation rate among Kansas universities and the success its
graduates have in being accepted to medical schools or top-flight
graduate programs, he said.
"We want to find distinctions students and their families can hang
their hats on," Kropf said. "People say Baker's tuition is higher than
Kansas University or Kansas State, but that doesn't necessarily make
the cost of our education higher. When you factor in such things as
time of graduation — most of our students graduate in four years or
less — academic scholarships and sports participation awards, families
often find we are as affordable as public universities."
Her sports scholarship and the new science facilities played a part in
pre-nursing student Stephens' decision to attend Baker, but she said
the tipping point was the school's more intimate scale.
"I liked the smaller size," she said. "Every time I came for a visit,
everyone was very friendly."
Kropf is confident that, unlike the 2009 bubble, this year's success can
be sustained.
"I think the renovated Harter Student Union will make a big
difference," he said. "Another thing we try to promote is the
community, and there are now 15 places to dine in Baldwin City. Our
students like that we are close to Lawrence and Kansas City, but I
think those local opportunities make a big difference."