Steam engine's presence at Railfest part of hobby 'that got out of hand'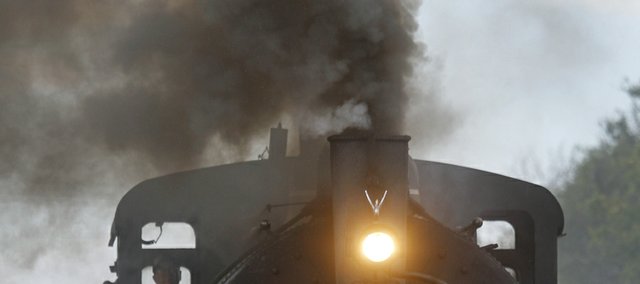 John Gramling says he feels guilty about the willingness of train buffs to operate his family's two steam-powered locomotives.
He and his son Barney rarely climb into the cabs at the shows they attend throughout the eastern half of the country, Gramling said. Instead, qualified local train enthusiasts eager to experience railroad history mostly do the dirty, sweaty work of stoking fires and operating the coal-fired locomotives.
"Where my son and I get the most enjoyment is seeing them run again," the retired Ashley, Ind., contractor said. "In some respects, I almost feel like we're taking advantage of people. On the other hand, I've had people thank me 10 times for the chance to shovel coal. So if they are getting enjoyment out of it, I'm willing to let them."
Gramling will make is second visit to Baldwin City. After bringing the steam-powered locomotive "Sadie" last year, he is bringing Flagg Coal Company Engine No. 75, affectionately called "Hank," to serve as the centerpiece of Midland Railway's annual Railfest. This year's event, "Back in Steam," runs Friday through Monday with rides in cars behind Hank available starting on Saturday.
Allen Kinsley, Midland Railway marketing director, said that Midland engineers and firemen be in Hank's cab during its three daily Railfest runs, and the $150 tickets affording railroad buffs the opportunity to take supervised control of the engine were snatched up quickly.
"There's just something about a steam locomotive, from the steam and the smoke coming out of the stack to the chug of the engine going down the tracks, that takes people to a bygone ear," Kinsley said.
Gramling didn't plan to spend his retirement years in an RV following Hank to shows. It is a "hobby that got out of hand," he said.
It started when his then 19-year-old son, who already had volunteered at a railroad museum for seven years, decided he wanted to buy and restore a locomotive rusting in a rural New York tree line.
"I went with him to convince him it wasn't possible," Gramling said. "The plan didn't work out. We then bought a second one to get parts for the first one and then a third one to finish restoring the second. The third one is about half finished and will be ready next year. Now, we have a fourth locomotive, but it's a different kind, so we're going to have to get a fifth one."
From the 1920s through the 1940s, the Vulcan Iron Works of Wilkes-Barre, Pa., manufactured Hank, Sadie and more than 3,000 like them, Gramling said. They are saddle-back engines, meaning coal is carried in a compartment in front of the cab and not pulled behind in a separate car. Hank holds 1,200 gallons of water and thirstily consumes about 100 gallons per mile.
Hank and Sadie are not long, sleek locomotives once used to haul passengers or freight across country, but stubby machines designed to jockey cars about in the tight spaces of coal mines and rock quarries.
"They were unglamorous engines that had a purpose but didn't interest people, so it's really difficult to find a picture of them being used,"Gramling said.
Nonetheless, the two locomotives are photogenic stars today at shows or when being hauled on flatbeds.
"I've followed them sometimes on Interstates and people passing them, when they realize what they are, they'll slow down and take photos with cell phones," Gramling said. "It's the same way at truck stops."
They are also the center of attention at shows.
"Virtually every group that comes has small children with them," he said. "You have the people who are enthusiastic train fans, but I think it's more a family event. It's a good, wholesome thing.
"I guess I enjoy seeing that, because I keep doing it."