Baker University to present play honoring first responders, police officers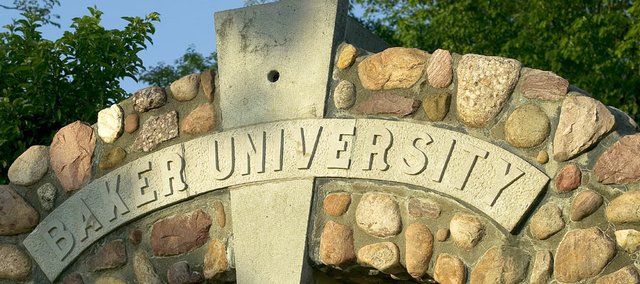 Baker University's Theater Department will open the fall season with "New York," a play originally written to raise funds for volunteer psychiatrists dedicated to helping patients who were psychologically affected by 9/11. The 16-scene play follows 14 individuals on their journey to come to terms with the events of 9/11.
The Baker production, dedicated to first responders, police officers and firefighters, will open at 7:30 p.m., Wednesday, Sept. 11, at Rice Auditorium. Other performance times are 7:30 p.m. on Sept. 12, Sept. 13, Sept. 14 and 2 p.m. Sept. 15.
Gift donations will be accepted on all four dates. The money raised from the production will benefit the Muscular Dystrophy Association to be donated in the name of the firefighters and also the Cy Middleton Memorial Fund, which aids police officers and their families who are stricken with illness or death. The fund supports members of police departments across Kansas.
The"New York" cast for the Baker production is:
Taylor Winkler, sophomore, music and psychology major, Overland Park, Kan.; Billy Wicks, senior, music education major, Ottawa, Kan.; MacKenzie Sammons, sophomore, theater major, Wellsville, Kan.; Kyle Richardson, senior, theater major, Lane, Kan.; Cheyenne Queen, junior, theater major, Derby, Kan.; Jillian Miller, junior, theater major, Lenexa, Kan.; Katie Masters, sophomore, pre-nursing, Paola, Kan.; Joey Majchrzak, junior, theatre major, Olathe, Kan.; Dustin Keen, sophomore, music education major, Holton, Kan.; Abigail Jones, senior, art history major, Plainville, Kan.; Ryan Bearrick, junior, music education major, Chanute, Kan.; Jesse Miller, sophomore, theatre major, Olathe, Kan.; Kelly Braud, alumnus,Baldwin City, Kan.
After the opening night production, Tim Hodges, director of the counseling center, will lead a discussion on how communities deal with terrorist attacks. All firstresponders, police chiefs and fire chiefs from the area are welcome to attend and be recognized.