Bulldog volleyball team starts 2013 season with high expectations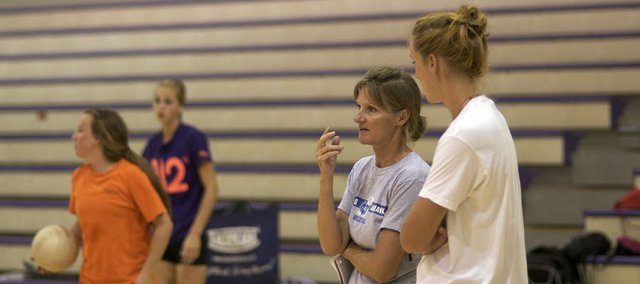 With a roster filled with experience and a successful summer behind it, the Baldwin High School volleyball team is entering the 2013 season with high expectations.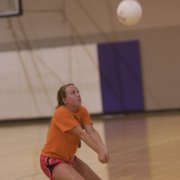 "I think, if any year, this is the year we could go all the way," said senior defensive specialist Madeline McCrary. "I really believe that and I think if every girl on the court believes that, we can make this happen."
At practice Thursday, Bulldog coach Jill Brown said she hadn't discussed goals with her players other than such basic ones as bringing their best effort every match. But she does agree the team is confident and with the right approach can have a great season.
"I know the girls, just from talking to them during the summer, they (expectations) are pretty high," Brown said. "And very attainable. It's going to be a lot of work and they know that, but I think they see they could really push it this year."
The team got a boost in confidence during the summer when it finished first in a Wellsville summer league, posting a 21-3 set record, an accomplishment McCrary said has created a buzz about the Bulldogs among Frontier League rivals. Also significant for Brown was the effort players brought to summer workouts, which usually drew 20 or more team members per session.
As it was last year, the strength of the 2013 Bulldogs will be at the net with the return of big hitters senior Morgan Lober and juniors Alexia Stein and Jordan Hoffman — who already has committed to play volleyball at Washburn University.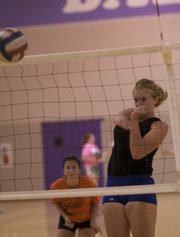 "We've always been great hitters, and this year I think we are going to dominate at the net," McCrary said. "We lack a little passing, but that's what we've been working on because hitting comes easy to us."
Brown agreed that was the team's challenge and one that will fall to McCrary, fellow senior defensive specialist Jenna Irey, junior setter Corey Valentine and others, such as returning seniors Lainey Rochester and Mickayla Starkey.
"We are just a great hitting team, but if we are not passing well we're not going to be able to do that," Brown said. "We've worked a lot on passing already this week, because if you don't pass well you don't get to attack."
The team opens Sept. 3 with a quad at Eudora. The Bulldogs will try to improve on last year's third-place finish in the Frontier League Invitation Tournament Sept. 7 at De Soto.