El Jacal to emphasize fresh, on-site prepared food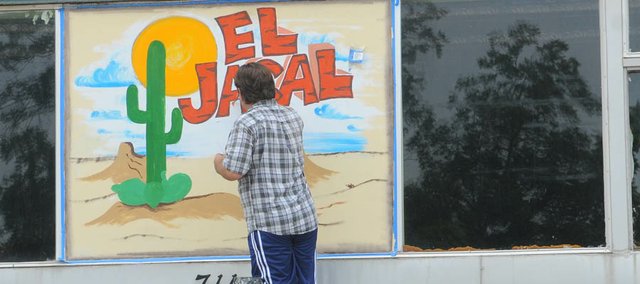 After more than a decade away from the restaurant business, Michael Pacheco is bringing back to a new town his family's Mexican food tradition.
His parents, John and Helen Pacheco, owned the El Jacal restaurant in Ottawa for 25 years before he took it over for a three-year run. The business grew under his guidance, but he was forced to close in September 2002 when the restaurant's building was sold.
"The business had outgrown the building, and I thought I'd get a loan to buy a larger place," he said. "I was young and didn't know anything about equity or those kinds of things. I thought they'd give me a loan on my name."
Instead, he spent 10 years away from the restaurant business, as the house cook for a Kansas University fraternity.
Now, Pacheco and his wife Christina, and partner Shane Dertinger, are opening a new El Jacal in downtown Baldwin City. They purchased the storefront home of the former Moni's Seafood at 711 High Street from Jon and Monica Cook.
For the past three weeks, the partners have been busy renovating the building's interior. Floors have been refinished, walls repainted and the bar and kitchen modified.
"All that's left are the finishing details," Pacheco said. "We wanted it to look like a Mexican restaurant, but not too cluttered."
During a break from remodeling Thursday, the Pachecos said that once they and Dertinger decided to open a new El Jacal, they started looking for a site in Baldwin City, because Ottawa was too saturated with restaurants. Unable at first to find something here, they looked at Wellsville, Edgerton and other smaller communities in the area, and even scouted locations in Lawrence. At that point, his son found the listing for the former Moni's location on the Internet, Pacheco said, allowing them to go back to their original Baldwin City plan.
"We went full circle." he said. "We're very pleased. This is a great location."
The partners hope to have the restaurant open by next weekend, pending a final city inspection.
The Pachecos said the restaurant would stay true to its Ottawa roots. "Everything I know I learned from my dad," Pacheco said. "I've been in the kitchen 40 years. That's all I've done." In addition to his fraternity and family restaurant experience, Pacheco cooked for 13 years in the Marine Corps.
The emphasis at El Jacal will be on fresh ingredients, bought from local producers when possible, the Pachecos said. Salsa, sauces, tortillas, taco shells and chips will be made in-house. Nothing will be frozen or pre-made, they said.
"Food here does take preparation," Christina said. "We make everything when it's ordered. We don't make anything ahead of time."
The partners have applied for a state liquor license and will have a full bar when it is approved. Meanwhile, they will offer domestic and Mexican beers, Pacheco said.
Once the liquor license is approved, the bar will be open to 2 a.m. on Fridays and Saturdays. The partners plan to offer live musical entertainment on some weekend nights.
The Pachecos think the live entertainment and the food will attract Baker University students.
"One thing I learned from feeding college kids the past 10 years, is that they, especially the boys, love Mexican food," Pacheco said.
The restaurants hours will be 11 a.m. to 8 p.m. Monday through Thursday. 11 a.m. to 9 p.m. Friday and Saturday
and 11 a.m. to 3 p.m. on Sunday. To serve lunchtime customers who are on a tight schedule, El Jacal will offer a lunch buffet on weekdays, Pacheco said.