Teen's flexible talent helps him overcome shyness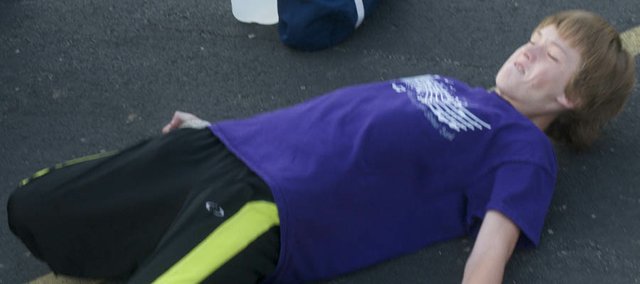 Fourteen-year-old Chris Jackson admits he's shy.
"Most people don't even notice me," he said.
That changes when the rural Vinland teen is asked to dance. Suddenly his game face comes on as he adopts his stage-name persona of Galaxy.
"I was known as the Robot Kid until I came up with Galaxy," he said. "It's kind of cheesy. I came up with it because my talent is out of this world."
It may not be otherworldly, but a routine showcasing his talent does require the Baldwin High School freshman to bend his joints in ways that would send most of us to the emergency room. His don't-try-this-at-home repertoire includes such tricks as lacing the fingers of his left hand held behind the small of his back with those of his right hand extended over his shoulder and then lifting both hands over his head without breaking grip. Another is the equally difficult stunt of bending backward on his knees until he is back is flat on the ground before returning to a standing position without using his arms or hands.
Using his Galaxy stage name, Chris submitted a video made at last year's Baldwin Junior High School talent show to "America's Got Talent," but he hasn't heard yet whether he'll be on the show. He's performed at other talent shows and dance contests and squared off against opposing performers in street dance battles in which those watching decide the winner.
"I've been in 16 dance battles, and I've never lost," he said.
Performing his routine of stunts amid robotic dance steps tends to break down the walls of his shyness, Chris said.
"I went to a party after the (Baldwin High School) alumni soccer game earlier this month," he said. "I just kind of hid in the corner. No one even noticed me for about an hour. Then someone asked me to dance. From then on, I was the life of the party."
It's a transformation that amazes his mother, Mary Jackson.
"I'm always surprised how he can get up on stage and introduce what he's going to do," she said. "He's so quiet, I always think he's going to freeze."
She is equally in awe of the contortions her teenage son executes.
"I think he likes that shock value," she said. "I think it's amazing he can do the things he does. He's always been very bendy and flexible."
He came by his limber joints from both his mother and father, William Jackson, Chris said.
"They can both twist their arms out the other way, but they can't lift their arms back from behind their heads like me. I just discovered I could do that out of the blue."
His dances are not choreographed, Chris said, but "free-style" routines put together from moves learned from watching videos of other contortionists and dancers on the Internet. It usually takes two or three practice attempts in front of a mirror before he can first perform a trick, he said.
Right now, he is working on adding Michael Jackson's moonwalk to his repertoire.
Another influence is Robert Muraine, a former Los Angeles street performer who was the first dancer to quit the show "So You Think You Can Dance," Chris said.
"In the last year, he's performed in France, Russia, Italy, Germany and Los Angeles," he said. "I hope to end up like he did and perform all around the world. That's kind of my ambition."