New Baldwin City Chamber of Commerce office manager 'people person'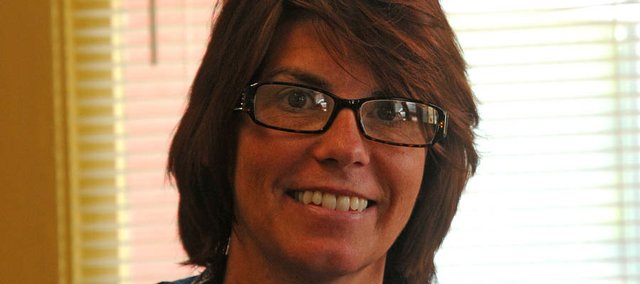 On her first day on the job, Kimberly Wolff was rearranging the Baldwin City Chamber of Commerce's office to her liking and working on her weekly schedule.
The multi-tasking ability will serve Wolff well in her new position as the chamber's office manager. She succeeds Jill Underwood, who resigned last month to take another position.
Among the office manager's duties are updating the chamber's website, helping organize chamber and community functions, sitting on various community committees and answering inquiries from those interested in doing business in Baldwin City.
She starts at a busy time. The chamber's monthly luncheon was Wednesday, the chamber will have a ribbon cutting for Sunflower Development Solutions from 5 to 6 p.m. Thursday at the firm's office at 813 Eighth St. and the chamber will co-sponsor a mixer with Baker University for chamber members and university staff from 4:30 to 6 p.m. Friday at The Lodge.
Wolff said she was excited about the early opportunities the busy week affords to meet chamber and community members.
"I'm a people person so it's a real good fit," she said. "I've lived in Baldwin City for 11 years. You would think in a small town you would know everybody, but you don't. I'll meet a lot more people now. I'm excited about that."
Baldwin USD 348 Superintendent Paul Dorathy, this year's chamber president, said Wolff will be a good fit for the position with her existing contacts in the community and experience as a former small business owner and volunteer with a non-profit organization.
Wolff said that before moving to Baldwin City, she owned an automotive business in Eudora and did volunteer work with the Make-A-Wish Foundation. The volunteer work gave her experience in networking and the business background provides insight in the challenges small business face and benefits the chamber can provide, she said.
"Baldwin is my home and where my two children are growing up," she said. "I want to see it grow. I want to see businesses continue to grow and more businesses start in the city."
Wolff said her hours at the chamber office at 720 High St. will 8:30 a.m. to 3:30 p.m. Tuesdays and Wednesdays, 10:30 a.m. to 3 p.m. Thursdays and 8:30 a.m. to 3 p.m. Fridays.