Board asks staff to use formal process to assess banks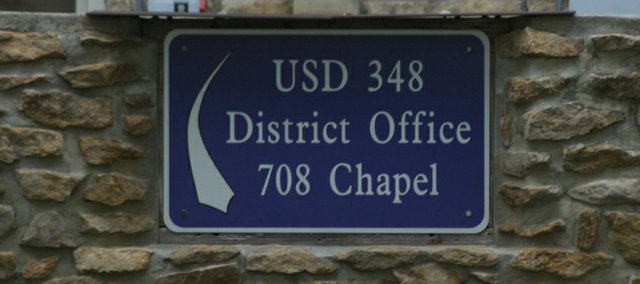 Four members of the Baldwin school board told staff on Monday to adopt a more formal process for assessing the city's three banks before making a recommendation on which of them should get the district's operating account.
Board members said the issue had prompted numerous constituent phone calls in the last month.
"This is a very hot topic in the big town of Baldwin City," board member Chad Christie said.
During consideration of annual appointments at its July meeting, the board deferred action on Director of Financial Operations Cynde Frick's recommendation that the district transfer its operating account from Baldwin State Bank to Kansas State Bank. Frick said she proposed the move because the more advanced technology available at Kansas State Bank would allow more streamlined operations.
Two bankers on the school board, Ivan Huntoon of Baldwin State Bank and Greg Kruger of Kansas State Bank, recused themselves from last month's discussion. Board President Nick Harris, whose wife is a Baldwin State Bank board member, joined them Monday in the hallway.
The remaining board members, Sandy Chapman, Christie, Sheryl Gill and Nicole Tiller, remained unwilling Monday to approve the recommendation. The concern Christie and Chapman expressed was that Frick made the decision based on conversations she had with representatives of Baldwin State Bank, Kansas State Bank and MidAmerica Bank. The process didn't assure all the banks were asked the same questions, they said.
Although state law doesn't require school boards to seek requests for proposals for professional services, a more formal and transparent process is needed, especially in light of the banking interests represented on the board, Chapman and Christie said.
The board instructed Frick to send a letter to all three banks, requesting information on interest rates and services available.
Because of her time commitments with the upcoming state audit of the district's 2013-2014 budget, Frick said she won't have a recommendation to present the board until October.
During the July appointment considerations, the board reappointed Bob Bezek as the district's attorney, but also asked Superintendent Paul Dorathy to research options for legal representation. Chapman and Christie questioned whether Bezek made the district a priority.
On Monday, Dorathy presented the board with a list of law firms representing neighboring districts. The board asked that a representative of Stevens and Brand be invited to give a small presentation at the September board meeting. The Lawrence firm represents the Lawrence, Lansing, Shawnee Heights and Tonganoxie school districts.