Five questions: Watch for youths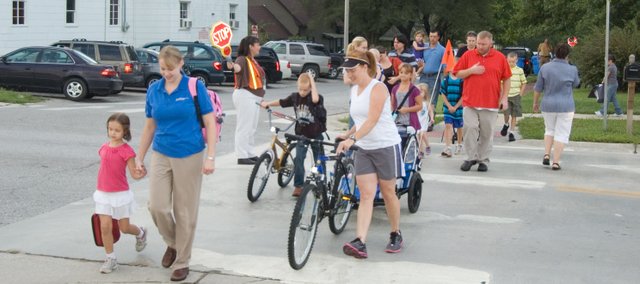 A new school year is here. Safe Kids Kansas offers some tips for drivers on the road and youths walking to and from school.
Q: How many youths are injured each year in pedestrian injuries?
A: More than 60 youths are injured severely enough to warrant medical attention. More than 500 youths are killed every in the United States.
Q: Can youths cross the street alone?
A: Children should cross the street with an adult until age 10.
Q: What's the best route to school for children?
A: Choose the safest route and walk it with children. Look for the most direct route with the fewest street crossings. Children should take the same route every day and avoid shortcuts. Teach children to cross the street at a corner or crosswalk, never from between parked cars or from behind bushes or shrubs.
Q: How can a person promote walking safety?
A: Consider starting or participating in any existing Walking School Bus programs. Ask your school if they have a program. For more information about how a Walking School Bus works, visit walkingschoolbus.org. Teach children to recognize and obey all traffic signals and markings. Make sure children look in all directions before crossing the street. If a vehicle is approaching, wave and make eye contact with the driver before crossing the street.
Q: Any other tips for pedestrian safety?
A: Talk to your teens about distractions. Cell phone use, whether texting, talking or listening to music with headphones can distract a pedestrian from seeing or hearing oncoming vehicles.