Vinland Valley farmer enjoys power from the past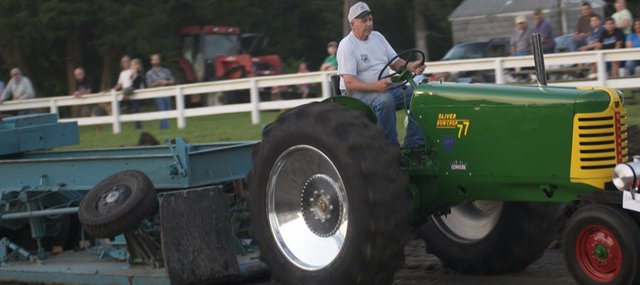 The Oliver 77 Jim Sack brought Friday to the Vinland Fair tractor pull is both beauty and beast.
The Oliver 77 was admired in its day for its styling, and Sack's machine has a green coat accented with yellow and red that shines with a showroom sheen.
"About three years ago when I got the tractor together, I had a retired friend paint it for me," he said. "I went to Louisburg for my first tractor pull. I didn't do too well, but I did win Best in Show."
From the rear wheels forward, the tractor looks much like the 77s that rolled off the assembly line from 1948 through 1954. But little details such as a small aluminum gas tank mounted in front of the radiator and an air breather extending from the left engine cowling give notice to a purpose other than fieldwork. The tractor's shiny aluminum rear wheels also deviate from those on stock 77s.
Despite the attention given its appearance, the tractor was built for competition, Sack said. Racing fuel in the small tank feeds its souped-up, six-cylinder engine.
"It's bored and stroked and has performance valves," Sack said. "The wheels each weigh 130 pounds less than stock."
Talking with Sack at the pull, Bob Baer, an 88-year-old retired rural Ottawa milk route driver who once picked up milk at the Sack dairy farm 3 miles north of Vinland, teased his friend about the attention he gives the tractor.
"He practically sleeps with it," Baer said.
His wife, Nancy, tolerates his hobby and his trips to five or six shows annually from July through September, Sack said. But it isn't the first competitive activity to occupy the family. His wife made a name for herself and the farm at national Guernsey shows and still breeds champions. Their late daughter, Tamara Coltrane, was a former National Guernsey Queen, he said.
When he got involved with tractor pulls, it was no accident Oliver was his machine of choice. His father-in-law Gerald Boehle used Olivers on the dairy when he and Nancy were married in 1969, Sack said.
It's all about weight distribution
There's skill and strategy involved in tractor pulls, Sack said. He's picked up tips from people such as Baer, who owns 13 vintage tractors, he said. He knows to watch early contestants to learn what part of the track provides the best traction, but the big thing is distributing weight correctly for track conditions.
That's where the custom aluminum rear wheels come into play, Sack said. There's a 4,100–pound limit in his class and the lighter wheels allow him to hang more weight where it will best benefit traction, he said.
Sack was in one of the late categories competing Friday in front of appreciative spectators lining white rail fences on both sides of the track carved in the fairground soil. First to hook to the sled were classes of various size stock farm tractors straight from the field. Restored but unmodified tractors then made an appearance.
The earlier classifications have speed restrictions, and their owners can't shave treads from drive tires for better traction as he does, Sack said.
When it was Sack's turn, he pulled the sled straight down the track, threatening to reach the end of the course before stopping 165 feet from the starting line. It was the best distance of the night to that point and good enough to beat the only other tractor in his class.
"That went pretty good," Sack said. "I think the weight was about right. I didn't get the front wheels in the air except for a little right at the end."
As with the other shows he attends, there was no prize money involved. His winnings mostly amount to T-shirts and ball caps, he said. The hobby allowed him to meet people who shared his interest in vintage tractors and enjoy displaying their power.
"It's all about having fun," he said. "It's nice to put on a show for people."