Baldwin junior gets K-State offer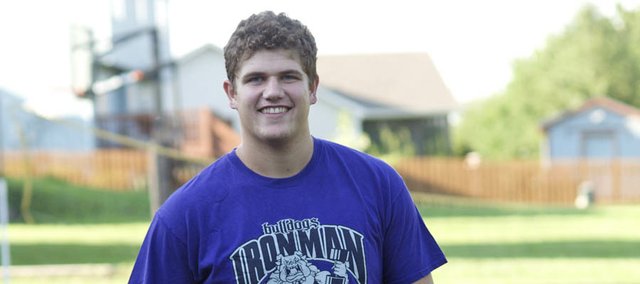 Through a family effort, Christian Gaylord has received his first big-time college football scholarship offer.
Kansas State University offered the 6-foot-6, 270-pound Baldwin High School junior a scholarship after he attended the school's spring football game and two camps. Although his interest is mutual, Christian is not ready to commit to Bill Snyder's Wildcats.
"I want to see what else may come along," he said.
No other school has stepped up yet with a scholarship offer, but Christian is on the radar of a handful of other BCS programs. This summer, he attended camps at Kansas University, Oklahoma State, Iowa State, Arkansas and Nebraska, in addition to K-State. All those schools also invited Christian to attend spring games or, if that wasn't possible, spring practices.
In one hectic week in early June, he attended camps at K-State, Oklahoma State, Nebraska and Iowa State.
Christian would probably still be unknown to college programs had his parents, Holly and Scott Gaylord, not connected with two Internet recruiting services. One developed a profile of Christian, which included his stats, highlights and skills videos, and the other made videos of his games as a Bulldog available to colleges.
"You have to be pro-active," Holly said. "People don't know you're out there."
The honors Christian received after his sophomore campaign piqued the interest of the evaluators with the Internet services, who then stepped up their notifications to BCS schools, Holly said.
"They re-evaluated him after he made first-team all-league and honorable mention all-state as a sophomore," she said. "It went from hearing from NAIA and Division II schools to BCS schools."
All the programs are looking at Christian at the all-important left tackle position, the offensive lineman responsible for protecting right-handed quarterbacks from blind-side rushers.
"He went one-on-one against some of the best defensive ends in the nation," Holly said. "He got beat sometimes, but he held his own and won some battles, too."
Christian left every camp with the coaches assuring him they were interested in him, Scott said. They liked his quickness in mobility drills and speed in the 40-yard-dash and encouraged him to keep playing basketball, because that helps his foot speed, he said.
The Bulldogs should benefit this fall from his camp experience, Christian said.
"I learned a lot," he said. "Three-step and five-step pass protection, keeping my elbows in and the two-point stance."
Christian said he's bigger and stronger than last year, having put on 20 pounds of muscle mass. He's anxious to get on the field and block beside his friend and summer workout partner, Quinn Twombly, on a team that only lost seven seniors from last year's state playoff team.
August is a dead time in college football recruiting when coaches can't contact prospects. That will end Sept. 1, and the Gaylords are curious what will happen after that date.
"We've never gone through this before," Scott said.
The deadline will come at a time of transition for the Gaylord family. Holly and Scott's daughter, Chloe, is getting married in the fall, and oldest son Caleb is leaving later this month for his freshman year at Fort Hays State University.
No matter what happens, Christian has the security of the K-State offer. Holly said the family has great respect for Snyder and his staff for both their football success and the values they share with players.
Also impressing Christian was Wildcat offensive line coach Charlie Dickey.
"Coach Dickey is a really nice guy," he said. "He knows what he's talking about. He gets down and dirty like the rest of us."
Helping recruit Christian to Manhattan is Dayton Valentine, who signed with the K-State football team last November after his senior year as a Bulldog.
"He says they are the best team in the nation," Christian said.
"Dayton told him, 'Just remember, Christian — EMAW,'" Holly said.