Vinland Fair event reaches 50th anniversary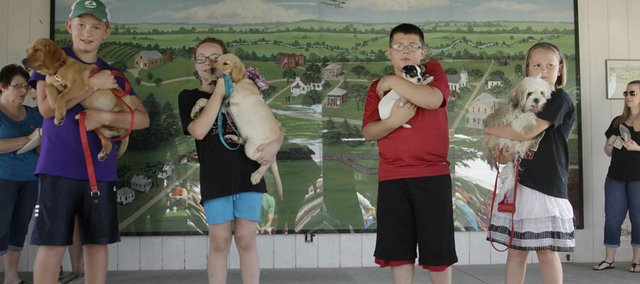 Half a dozen kids walked several loops around the stage at the Vinland Fair on Saturday morning, each holding tightly to a squirming puppy.
After careful deliberation by the event coordinator, Nancy Helm, a yellow Labrador Retriever named Mocha was awarded first place in the "Cutest Puppy" category. Mocha's owner, 12-year-old Jade Wagner of Baldwin City, rushed over to receive her $1 prize.
Wagner was one of several winners at the 50th annual Pet Parade, in which kids showed off their dogs and rabbits and their decorated stuffed animals, sunglasses, dolls, hats and wagons at the Vinland Fair, 1736 N. 700 Rd. in Baldwin City.
The Pet Parade was introduced to the Vinland Fair in 1963 by Helm's great aunt and uncle. Back then, Helm competed in the parade with her sister. They dressed up their dolls and decorated their bicycles with crepe paper each year.
Helm took over the operation 30 years later, in 1993.
"I remember decorating the dolls and my mom and grandma making the dresses for my sister and I," Helm said. "I do this in memory of my great aunt and uncle. This was their baby, and I will hope to continue it for a long time."