Coaches pick Baker third in conference football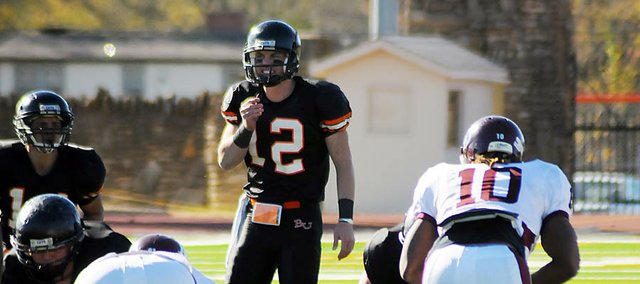 KANSAS CITY, Mo. – Baker University football coach Mike Grossner and senior quarterback Jake Morse addressed the media Tuesday at the 2013 Heart of America Athletic Conference Media Day at the NAIA National offices in downtown Kansas City, Mo.
The HAAC Preseason Coaches Poll was released at the media event, and the Wildcats collected 67 points to be picked to finish third by the conference coaches. Defending HAAC champion Missouri Valley earned eight first-place votes and 80 total points and have been picked to win the conference again.
Baker rival MidAmerica Nazarene was chosen to finish second with 70 points just ahead of BU.
Baker did receive just as many second-place votes as MNU with four. This is the second straight season Baker was picked to finish third.
The Wildcats return 33 lettermen from the 2012 campaign and 12 starters. Baker is also bringing in a recruiting class of 43 players.
Morse and Grossner spoke to a full room of HAAC coaches, athletes, administrators and members of the local media.
"I feel like, on paper, this is one of our better football teams," Grossner said. "We still have to put a couple of pieces in place here late in the summer. But we should come out of the summer camp with athletically a very good, experienced football team. We have 13 seniors and a lot of those guys have game experience in key positions.
"I have the sense that we are taking another step in our program. We arrived in 2004, and it takes a good four years to get your recruiting class through and develop them. We were able to qualify for the playoffs in 2008 and then four years later do it again in 2012. We've been consistent with six winning seasons in a row. Our trend is good, but we are in a tough league."
The Wildcats went 8-3 overall and 7-2 in the HAAC in 2012 and made an appearance in the 2012 NAIA Football Championship Series Playoffs.
Baker finished the regular season with four straight victories by an average margin of 23 points. In the playoffs, the team faced off against No. 6 ranked St. Francis in Fort Wayne, Ind.
The Wildcats will open up 2013 at home against national ranked Ottawa University in the 'County Line Clash' at 6 p.m. on Sept. 7. at Liston Stadium.
For all information regarding the season opener and Baker football, please visit www.bakerwildcats.com.