Baldwin City churches having back-to-school drives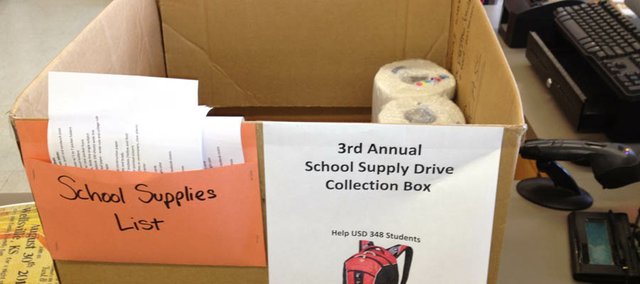 Baldwin City residents have the opportunity to donate to two drives to provide clothes and school supplies for children headed back to school.
Annunciation Parish's third-annual backpack drive will gather school supplies for students in preschool through high school going to Baldwin USD 348 schools, Ann Christie said. The collected items will be given away from 9 a.m. to noon Saturday at the Annunciation Catholic Church, 740 N. Sixth St.
"The drive has been such a great success through the years," Christie said. "But we do run out of supplies every year, because the need is so great. People tell me they would be lost without the drive."
Collection boxes for the drive have been placed at Arrowhead Hardware, the Baldwin City Recreation Commission office, Baldwin State Bank, Mid-America Bank and most of the city's churches, Christie said. The drive is collecting all school supply items, such as pens, tablets, crayons, notebooks and binders.
There is always a need for backpacks, and the ones donated go quickly. The drive will accept new backpacks and "gently used" ones, Christie said.
Cash donations will be spent locally for additional school supplies, Christie said.
She and other volunteers also will pick up donations. Those who would like to schedule a home pick up can call Christie at 785-979-3399.
Christie said she donates any clothing donated to the school supply drive to Cathy Gilges, who is heading the annual Ives Chapel United Methodist Church back-to-school clothing drive, also in its third year.
Clothing collected during the drive will be distributed from 8 a.m. to noon Saturday and Aug. 24 at Ives Chapel, 1018 Miami St. Donations of used clothing can be left at the church after 4 p.m. today and 4:30 p.m., Friday, Gilges said. Those unable to bring clothes to the church at that time can call her at 785-691-9231 to arrange a home pick up, she said.
Clothing for children of all ages, newborns to teens, is needed, Gilges said. The Ives Chapel congregation contributed to the drive by supplying badly needed underwear items recently with an "undies Sunday" and a "socket Sunday."
"As long as supplies last, children will get five pair of underwear and five pair of socks for the school year," Gilges said.