Baldwin school district having trouble selling Chapel Street properties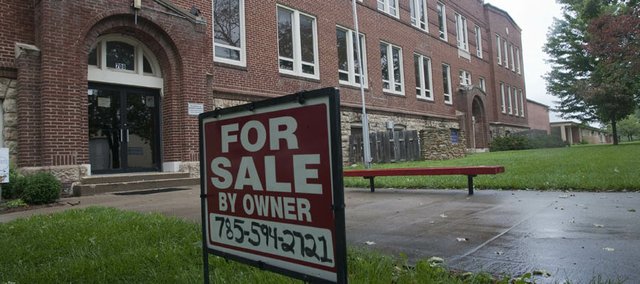 The Baldwin City school district has a sweet deal to offer anyone looking for developed property in the heart of the city:
For sale by owner: Three-story office building plus gymnasium. Total of 41,629 square feet of developed space, plus parking lot and vacant lot currently used for ball diamonds. Located on 2.3 acres near U.S. Highway 56. Close to downtown and Baker University. Zoned residential. Appraised at, $415,000, but owner will accept reasonable offers.
The problem is, the district has been trying to sell that property for more than two years, and so far it has gotten barely more than a nibble of interest.
"They're hard to sell," district superintendent Paul Dorathy said this week. He noted the buildings date back to the 1920s and 1930s, which means they would need a lot of work to be converted to other uses. One requirement of any new owner would be to make the old school building compliant with the Americans with Disabilities Act.
Dorathy said the district has been successful in recent months in selling off two other buildings it no longer needed — the old primary school in Baldwin City, which was sold in October to the Lighthouse Baptist Church for $200,000, and the former Marion Springs school, about eight miles west of Baldwin City, which was purchased by a group of private individuals in April for $90,000.
"I think we've been lucky to do what we've done," Dorathy said.
Self-marketing
But Alan Miller, a realtor in Baldwin City, says there may be another reason the district is having trouble selling the buildings: Unless someone drove by and saw the for-sale signs, or looked at the district's website, they would have no clue the properties are even on the market.
"I have no direct experience in attempting to market a school building," he said. "And I know it can't be easy. But, just having the information on their website, it just seems like a very limited attempt."
Dorathy said the school board did, in fact, try to find a real estate agent who could market the buildings, but eventually made the decision to save money on commissions and fees by trying to sell the properties itself.
"That makes no sense at all to me," Miller said. "Realtor fees, number one, can be negotiated. Number two, if you don't have active participation in the open market, you don't know what you're going to get on it. You could certainly try an auction with a reserve on it."
Bad timing, bad market
The reason the Baldwin City district has so much property for sale, Dorathy said, is partly the result of unfortunate timing and a historically bad real estate market.
In 2008, the district passed a $22.9 million bond issue to build a new elementary school to replace the old primary school in the city. It also built new baseball fields and a performing arts center. That was just a few months before the collapse of the financial industry and the start of the Great Recession.
Soon after that, the state of Kansas began slashing education funding, prompting the district to close two other grade schools — Marion Springs and Vinland school, located about three miles north of Baldwin City — and transfer those students into the new elementary school building.
Dorathy said the school board hasn't yet decided to sell the Vinland school, mainly because those closings filled up the new elementary school sooner than expected, and the district may need the Vinland space for future growth.
The challenge for buyers
The challenge that the Baldwin City district faces in selling the old buildings is not unusual, officials say, because old school buildings pose an even bigger challenge to potential buyers.
The Lawrence school district has closed three elementary school buildings in recent years, but has been somewhat lucky in finding other uses for them.
The former Wakarusa school now houses offices for the Lawrence Virtual School and Lawrence Virtual High School. Centennial school at 2145 Louisiana St. now houses the district's adult education center. And East Heights School is being leased to the Boys and Girls Club of Lawrence for after-school programming.
But John Wilkins, a principal with Gould Evans architectural firm in Lawrence, said anyone buying an old school building should be prepared to invest a lot of money to refurbish it, because of the way they're laid out and other architectural and structural quirks.
"Generally speaking, if you're going to renovate a school building, you're going to pay 75 to 80 percent of a new building," Wilkins said. "So to sell it and have somebody come in and renovate it for their use, it comes down to dollars."