Owner of van at
U.S.

56 bridge site identified, driver still uncertain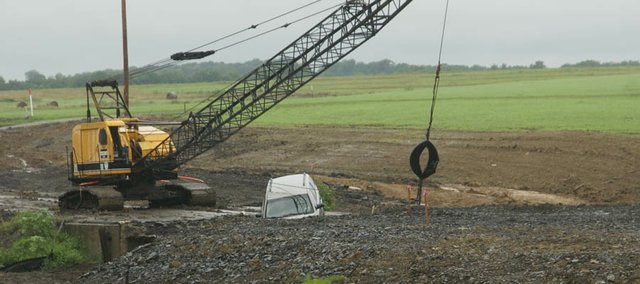 The owner of a wrecked vehicle discovered Sunday morning at a bridge construction site on U.S. 56 Highway west of Baldwin City has been identified, but the driver at the time of the incident has not.
Lt. Steve Lewis, public information officer for the Douglas County Sheriff's Office, said the grey Dodge Durango found unoccupied at 8:30 a.m. Sunday at the bridge construction site was registered to Eric Alsup of North 300 Road. An investigation continues to determine who was driving the vehicle, Lewis said.
A report on the incident states the driver of the eastbound van drove around barricades before the vehicle became inoperable at the construction site, Lewis said.
The section of the highway from Sixth Street in Baldwin City to East 1400 Road is closed to traffic for a Kansas Department of Transportation project to replace three bridges. The van was found at the eastbound approach to the middle bridge.