New Lamb-Roberts managing partner has many Baldwin City ties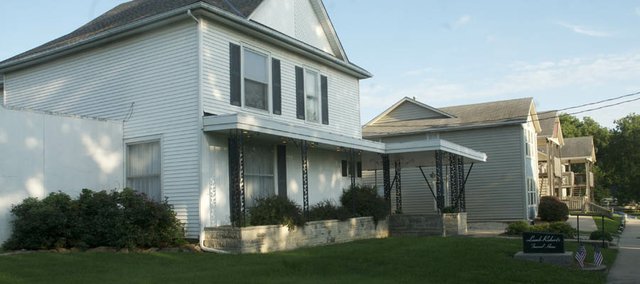 Eric Price said his career and recent promotion seem to contradict advice he gives young people interested in becoming funeral directors.
"I talk to a lot of kids interested in this profession. I tell them 'If you really want to do it and are not attached to an area, you'll do fine,'" Price said. "There are very few opportunities locally in this profession. I got lucky, and I don't want to leave. I'm blessed to be able to have a career in a place I fell in love with."
Price was promoted last month to managing partner of Lamb-Roberts Funeral Homes and now oversees operations in Baldwin City, Ottawa and Overbrook.
Price started with the firm three years ago after working for 10 years with another Ottawa funeral home. The move back to Lamb-Roberts was a return home, Price said. He was an intern with Lamb-Roberts while a student at Baker University, when he lived at the funeral home on Ninth Street.
Like his firm, Price has many interests in both Baldwin City and Ottawa. His wife, Donita Price, is a fourth-grade teacher at Baldwin Elementary School Intermediate Center, and his daughters Paige, Sadie and Natalie are enrolled at the Baldwin Academy of Dance and Music and other Baldwin City activities.
"She's one of those lucky people who saw a job she wanted when at Baker, went for it and has been there ever since," he said of his wife.
Price said he was a third-generation funeral director. His father, Steve, and two uncles own and operate Price & Son Funeral Homes in Leoti, Scott City, Garden City and Tribune.
Nonetheless, he came to Baker not certain he would follow in his father's and grandfather's footsteps, Price said. Memories of his father's work after the death of a close high school friend helped sway him toward the profession.
"It made me realize how much my father's role impacted the community and how much he was a part of what was a major event," he said. "When I got away from it, I realized this is what I could do for people. I can put my emotions aside and deal with their needs. I came to realize it would be foolish not to make use of a gift God gave me."
Another aspect of his job he enjoys is its unpredictable schedule, he said.
"Every day is different," he said. "I will be meeting with a family in the morning and doing something entirely different in the afternoon. It's not the same task every day."
That is especially true of his new position, which has him traveling to and from the firm's sites in Baldwin City, Ottawa and Overbrook, Price said.
One of the firm's top priorities is the continued remodeling of its Baldwin City home. Lamb-Roberts has owned the former fraternity house for decades. The roof was replaced late last year and the plan is now to remove the casket room added in 1989, Price said.
"We plan significant remodeling to the inside and outside of that building," Price said.
"The industry is changing to where casket rooms are rarely used," he said. "We plan to take down a wall to open it up to the chapel. That will significantly enlarge the chapel.