Baldwin Junior High School remodel project makes deadline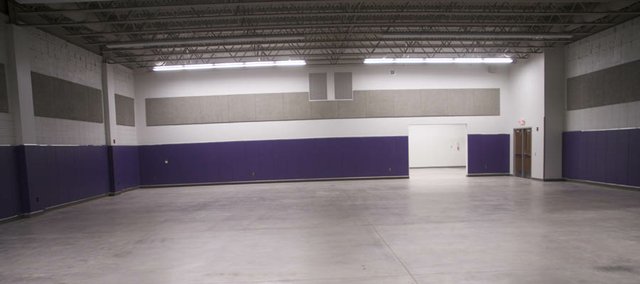 Altmar Inc., of Topeka, met the Aug. 1 deadline to substantially complete the Baldwin High Junior High School remodeling project.
Baldwin Junior High School Principal Joe Sample said the substantial completion status of the $633,850 project was confirmed during a Thursday walk through of the auditorium and other remodeled areas, including the band and weight rooms. A few items remain to be addressed and staff has to move desks and equipment into some remodeled rooms, he said.
Superintendent Paul Dorathy said the construction allows the district to once again use the auditorium, which has been largely unused since the opening of the Performing Arts Center in May 2011. The largest space in the old auditorium, the former seating area, was remodeled into a multipurpose room, which will be the home of the district's high school wrestling program.
"We thought when we opened the Performing Arts Center, the auditorium would be used for rehearsals and other events," he said. "That proved not to be the case."
Discussion on how best to reuse the auditorium started with board discussion of facilities needs in the spring of 2012. The board decided the top priority was to reclaim unused space in district facilities and to sell excess property, such as the South Gym on Chapel Street, which has been the wrestling program's home.
The project's components were:
• A multipurpose room that would also serve as the home of the district's junior high and high school wrestling programs.
• An enhanced junior high music room with a higher ceiling to improve sound quality, a rehearsal room, new office and storage space.
• Two classrooms.
• Storage space.
• Removal of walls in the junior high school weight room to create more useable space.
The district used money remaining in the 2008 bond issue to pay for the project. Bathrooms off the Baldwin Junior High School gymnasium were also remodeled but funds for that work came for a different source.
The project had a tight construction schedule, getting underway with the end of school in May.
At last month's Baldwin USD 348 board meeting, district facilities director Charles James expressed concern that the project might not be completed by the Aug. 1 deadline because of the electrical contractor's delays. Dorathy was more confident, saying the Altmar supervisor for the project would do what was necessary meet the deadline.
That proved to be correct. Altmar had employees work late on weekdays and two Saturdays so ensure the project was done on time, Dorathy said.