Vinland Fair link to community's Grange heritage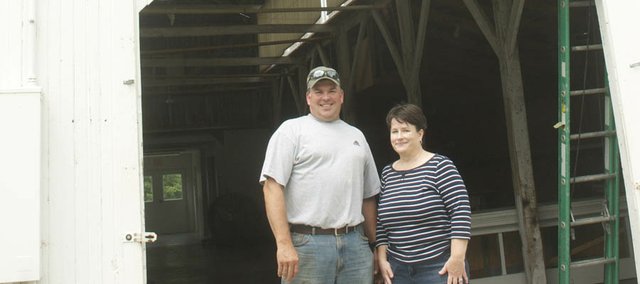 The tidy, white façade of the exhibit hall on the Vinland fairgrounds is highlighted with a sunflower above a sign proclaiming the Vinland Fair's establishment in 1907.
Schedule of events
Thursday
Antique quilt and apron show, all day
Old time and modern farm skills competition, 2 p.m.
Horseshoe pitching training, 2 p.m.
Poultry show, 6:30 p.m.
Talent show, 6 p.m.
Exhibits in place, 7 p.m.
Baldwin high school band performance, 7 p.m.
Rabbit show, 7 p.m.
Flower show, 7:15 p.m.
Alferd Packer Memorial String Band, 7:30 p.m.
Food: Vinland Valley 4-H will serve a lunch and dinner of pork burgers, hot dogs, chili dogs and Indian tacos
Friday
Stock bicycle races, 10 a.m.
Sack races, noon
Softball throw, 12 p.m.
Tug of war, noon
Antique tractor pull, 7 p.m.
Walt Babbitt and the Roots of Country band, 7:30 p.m.
Food: Vinland Fair volunteers will serve a lunch and dinner of homemade chicken and noodles, barbecue beef and pork
Saturday
Horseshoe pitching, 9 a.m.
Box turtle race, 11 a.m.
Pet parade, 11 a.m.
Livestock judging, 1 p.m.
Pedal tractor pull, 2:30 p.m.
Watermelon seed spitting contest, 3:30 p.m.
Lawn and garden tractor driving skills competition, 5 p.m.
Home made ice cream making competition, 7 p.m.
Bluestem band, 7:30 p.m.
Food: Vinland fair volunteers will serve a lunch and dinner of beef brisket, barbecue beef and pork
The sign is at once a nod to history and a proud declaration of the survival of a community fair, once common to many rural communities. With the start Thursday of the three-day Vinland Fair, the exhibit building will be filled with jams, jellies, canned goods, prize ears of corn, quilts and other entries.
Now on the National Register of Historic Places, the exhibit hall was built 20 years after the fair's first year.
Nora Cleland, former Vinland Fair Board president with her late husband, Miles, can relate those early fair days with authority, having researched them when application was made to put the exhibit hall on the national register.
Although the Vinland Grange had earlier fairs, the first of those that endured to the present was held 1907 in the grove on the banks of Coal Creek about three quarters of a mile east of the village, Cleland said.
"They had three tents set up," she said. "One was a tent where women and children could go for a cool drink of water. They had ice there, I believe.
"What a grand occasion it was, because they all took picnic lunches for members, had cattle shows and draft horse contests."
The fair was moved to its current location in Vinland in the 1920s when the town was at its peak population of about 75 people and had three churches, a grain elevator, two stores, a railroad depot and a cheese factory. In late 1926 and early 1927, Grange members led by Charlie Olson raised the exhibit hall, using locally cut and milled walnut for the interior timbers, Cleland said.
In the years since, a livestock barn, two concession stands, stage and a storage shed have been added to the grounds, all painted white to match the exhibit hall. Ten acres of adjoining property, including the site of the outdoor arena long made available rent free, were purchased in the 1980s.
Activities recall earliest fairs
Other changes reflect the passage of time. An antique tractor pull has replaced the early draft horse contests and the non-profit Vinland Community Fair and its board now run the fair in place of the Grange.
Although the earliest Grange organizers probably would be awed of the tractor pull and puzzled by the demonstration of such basic day-to-day skills as nail driving and corn shelling, they would be very much at home with many current fair activities, such as sack races, tug of wars, the watermelon seed spitting contest and live music.
"The fair board tries to keep it as near to the original as we can while keeping it interesting," Cleland said. "There is no carnival, and we don't allow anyone to sell anything on the grounds. There's no admission. All our income comes from two concession and food stands."
The focus on old-fashioned entertainment surprises many first-time attendees, said Mike Craig, co-president of the Vinland Community Fair Board with his wife, Julie.
"I'm sure for a lot of people, this is new to them," Craig said. "They've never seen anything like it. People drive in expecting to see a carnival all lit up. It's not anything like that but something with a real friendly atmosphere and community spirit. Everyone says they can let the kids run and not worry."
That was pretty much as he remembers the fair he attended with his parents and sister Sharon while growing up near Vinland, said Craig, whose parents Larry and Eloise Craig are former co-presidents of the fair board.
"It was something you went to," he said. "If I was lucky enough to play in a baseball or softball game, that would be the highlight for me. That, and just seeing friends. We didn't have all the activities they do today. That might be the only time you saw your friends during the summer."