Baldwin City's newest doctor 'natural fit'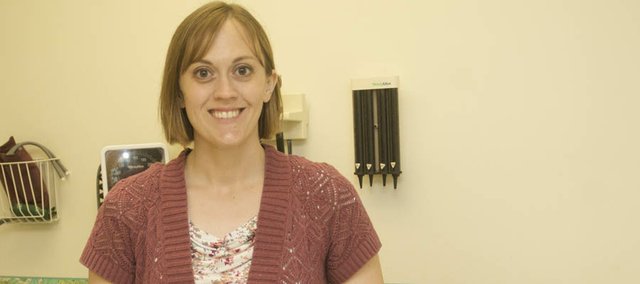 It's been a busy three months of transition for Dr. Bonnie Cramer and her family.
Cramer started June 10 at Family Medicine of Baldwin City, where she joined Dr. Kevin Hughes and physician's assistant Rebekah Johnston. She and her husband, Brian Cramer, and two children, 5-year-old Alli and 3-year-old Nate, moved to Baldwin City in May.
"It's going great," she said. "I like the town, and I like the clinic."
Cramer, a board certified M.D., left a position in Concordia for the Baldwin City opportunity. Moving closer to her parents, who still live at her childhood home in rural Wetmore, and her sister in Johnson County were important considerations, but there were other factors as well.
"I wanted something that gave me a little more of a set schedule with my daughter starting kindergarten," she said. "My husband's a history teacher, and we thought there would be more opportunities here."
Another appeal was the opportunity to be fully engaged in general practice at a family clinic.
"It was what I wanted to do since the time I decided to go into medicine," she said. "I never entertained a thought of a different specialty. I like the variety it affords.
"I like that you can treat someone of any age for many different conditions. You really get to know patients. Treating multiple members of the same family allows you to get to know them better."
Cramer said she decided to become a doctor before she graduated from Wetmore High School. She got her undergraduate degree in biology from Kansas State University before being accepted in the University of Kansas School of Medicine, where she graduated with honors in 2006. She completed her residency at Smoky Hill Family Residency Program in Salina in 2009 before starting practice in Concordia.
The Baldwin City clinic is affiliated with Lawrence Memorial Hospital, which was recently named one of the top 100 hospitals by Truven Health Analytics and top 100 U.S. community hospitals by Becker's Hospital Review.
"I had my interview scheduled before all that was announced," Cramer said. "It is really exciting to think I would be working for such a high-quality hospital."
Belinda Rehmer, social media manager for LMH, said she was impressed with how well Cramer fit when she introduced the new doctor to people in the community.
"Sometimes you meet someone who just exudes 'this is it,'" Rehmer said. "She's a small-town girl. When we walked around town, it was like she'd always been there. She just a natural fit."
Baldwin City residents will have a chance to meet Cramer at an ice cream social in her honor from 4:30-6 p.m. today at The Lodge, 502 Ames St.