Baldwin City Council approves 2014 budget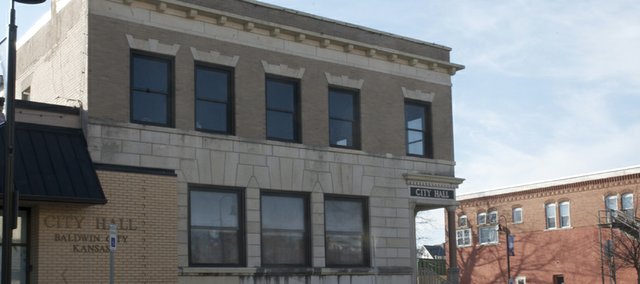 No one spoke at the public hearing Monday before the Baldwin City Council approved the city's 2014 budget, but the council nonetheless trimmed the $17.4 million budget to make it "revenue neutral."
The council approved a 2014 budget that cut $30,000 in property-tax-supported expenditures from the draft budget approved for publication last month. State law allows local governments to scale back spending from published budgets but requires them to republish if they decide to increase spending.
With the budget approved Monday, the city's portion of taxes owed on a $150,000 home would be $588. But the owner of that home might not pay more, or that much more, in taxes next year because the Douglas County appraiser found in March that a majority of single-family residences in the city declined in value, contributing to a 1.6 percent decline in the city's overall valuation.
The 0.54 mill increase in the 2014 budget was "revenue neutral" because it equaled the amount lost to the valuation decrease, City Administrator Chris Lowe said. One mill is equivalent to $1 for every $1,000 of assessed property value.
Half of the $30,000 chopped from the published budget came from the USD 348 Board of Education's decision to pay $15,045 of the school resource officer's salary for 2014. Lowe said the other savings came from penciling out some equipment purchases.
The 2014 budget has no increases in city utility rates. It would provide 4 percent merit raises to city employees.
The big capital improvement project planned is the city's commitment to provide $139,800 for the realignment of the High Street/U.S. Highway 56 intersection. The city is a partner with the state and Douglas County in the project.
In other action, the council:
• Approved a bid from Killough Construction of $121,880 for the year's asphalt mill and overlay street projects. The bid was $8,000 less than budgeted for the work, public works supervisor Bill Winegar said. The winning bid's unit costs of $58.85 for ton of asphalt and $1.34 per square yard milled were substantially lower than that of the other bidder, Hamm Construction, of $61.35 for asphalt and $2.25 for milling. Streets to get both a mill and overlay include Firetree Avenue, Flame Way and Blaze Boulevard. Those to get an overlay only include Quayle, Eisenhower and Washington streets.
• Approved an ordinance allowing parking on the south side of Elm Street east of the entrance to the Baldwin Elementary School Primary Center to Bullpup Drive.