Van wrecked, abandoned at
U.S.

56 bridge construction site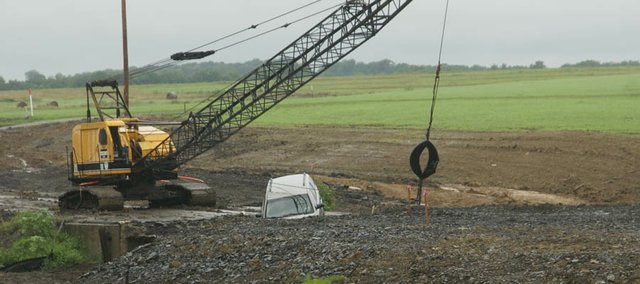 A wrecked vehicle was discovered Sunday morning in the middle of a construction site on U.S. 56 Highway west of Baldwin City.
"It appears the vehicle drove around the barricade and got stuck over the bridge," said Sgt. Tevita Hafoka, with the Douglas County Sheriff's Office.
Hafoka said the grey Dodge Durango was unoccupied when officers arrived, and they are currently working to locate its owner.
The section of the highway from Sixth Street in Baldwin City to East 1400 Road is currently closed to traffic for a project by the Kansas Department of Transportation. Three bridges along the highway are being replaced. The van was found in the middle bridge of the three being replaced.
Delbert Sheldon, of rural Douglas County, saw the vehicle in the construction site around 8:30 a.m. Sunday and called the authorities.