Team Baldwin does well in Sunflower Games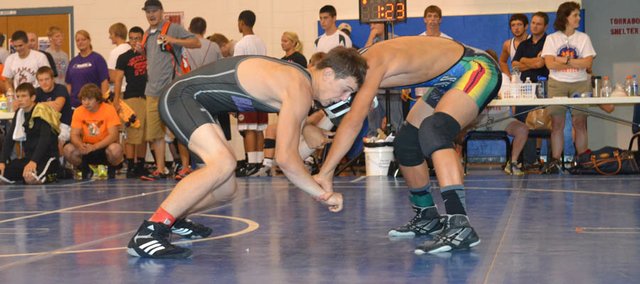 Wrestling may have an uncertain future in the Olympics, but it is going strong in the Sunflower State Games.
Baldwin High School wrestling coach Kit Harris said a team of 16 local wrestlers known as Team Baldwin joined the a field of 533 at the games last weekend at Seaman High School near Topeka.
"That was a record for the Sunflower Games," Harris said. "It was a great tournament. I'm always trying to get wrestlers to go because it's a great experience."
The Baldwin City contingent traveled as a group and had youth team members, high school students and graduates, Harris said.
"Everybody competed well," he said. "We had a lot of close matches. It will definitely make us better."
Competitors didn't have to make weight but wrestled at their weights, Harris said. The games had two competitions: a takedown tournament, in which wrestlers were awarded points for takedowns only in a three-minute match, and a folkstyle tournament with traditional high school rules.
Jon Pratt, who will start his junior year at BHS later this month, won gold medals in both competitions in the 134-to-139-pound division. High school teammate Tiler Garcia was second in both.
Overall, the Baldwin team won 32 matches and brought home two gold medals, five silver medals and eight bronze medals, Harris said.
Pratt, a gold medalist at Baldwin's Class 4A regional and a fifth-place finisher at state last spring, said the summer tournament was as tough as those two tournaments.
"It was just as hard, if not harder," he said. "I was wrestling at 19 more pounds than I was last year, so it was more competitive."
Pratt, who plans to wrestle at 132 pounds as a junior, said the experience was a good prelude for the coming year.