Baldwin buries Maranatha with three second-half goals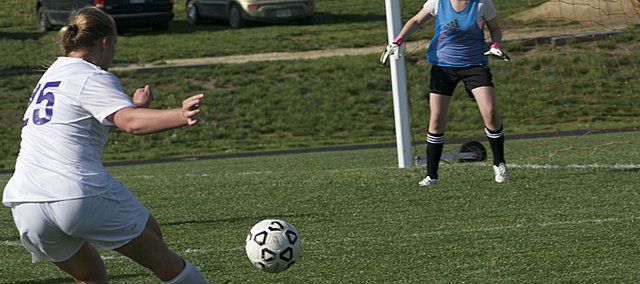 The Baldwin High School girls soccer team's remarkable turnaround continued Tuesday as the Bulldogs buried visiting Maranatha, 5-1.
The Bulldogs outscored Maranatha, 3-0, in the second half, earning their fifth straight victory and giving Baldwin a .500 record for the first time in the program's history at 5-5-1.
Sophomore Sierra McKinney led the way for the Bulldogs with four goals, three in the second half. Senior Jessie Katzer also found the net for the Bulldogs with a first-half goal.
The Bulldogs' impressive second half could have been bigger. Nearly the entire 40 minutes was played in front of Maranatha's goal. The quicker, stronger and more aggressive Bulldogs had 10 solid shots on goal in the half that didn't find the net. Meanwhile, the visitors didn't test Baldwin's defense until coach Erryn Kindle cleared the bench in the last minute.
"It was a good day for everybody," the coach said. "We finally started playing as a team. It's the same team we had last year and most of this year, but it's finally coming together.
"We're being more aggressive when the ball is in the air and winning balls. That gives us the opportunity to go forward rather than go back on defense."
Senior Katzer passed on a chance to compete in the rescheduled Wellsville track meet to play in the senior night match. Her coach said her presence makes a difference.
"She can handle just about anybody who comes at her," Kindle said. "She may not score a lot of goals, but she makes a lot of things happen for the team."
Katzer said she isn't surprised by the team's turnaround.
"I thought we would improve a lot," she said. "We have a lot of good freshmen coming up, and we're playing much better as a team rather than depending on one or two players."
Weather permitting, Baldwin will play at 4 p.m. Thursday at K.C. Piper. It will return home for a 4 p.m. match Friday against De Soto.