Baldwin High School defeats Tongie for 4th-straight soccer victory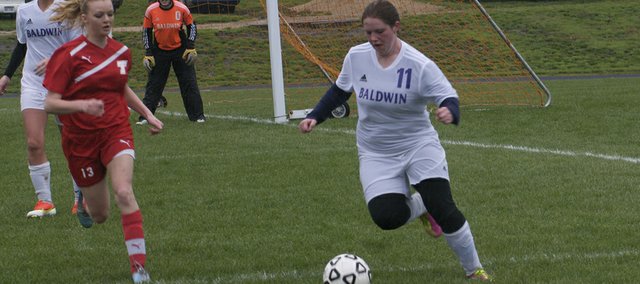 The Baldwin High School girls soccer team stayed hot Friday, defeating Tonganoxie, 1-0.
The win was the Bulldogs fourth straight and third-straight shutout. It came a day after the team earned its third-straight road victory with a 4-0 win in Lawrence against Bishop Seabury Academy. With Friday's win, the team improved its record to 4-5-1.
Baldwin senior Kate Dixon scored the only goal of the match Friday in the first half, following up on a two-goal performance against Bishop Seabury.
"It was a free kick outside the eighteen (goal box)," Dixon said of her game-winning goal Friday. "It feels good to win. It's our fourth straight, and that's the best we've done."
The match was played in a steady rain and the second half had two 30-minute lightning delays. The first delay came 10 minutes in the half and seemed to swing momentum to Tonganoxie until the teams headed for shelter again with 15 minutes to play. The aggressive Chieftains played most of the time between the delays in front of the Baldwin goal but were unable to score thanks to the efforts of goalkeeper Morgan Smith, Dixon and other defenders
"It gets a little nerve-racking back there," Dixon said. "We were back there a lot today."
Baldwin put more pressure on during the final 15 minutes of play but was forced to make a number of key stops.
"I feel like it was a game of momentum swings," coach Erryn Kindle said. "We were obviously able to get a lot of shots on goal and they got shots on goal. But we were able to put one in and they weren't.
Defense has played a role in the team's improvement and winning streak, but it is only one area of all-around better play, Kindle said.
"It's definitely helped but we're playing as a team and attacking as a team," he said.
Next up for the Bulldogs in a Tuesday home match against Maranatha of Shawnee.