Girls earn first-ever gold in relay at
KU

relays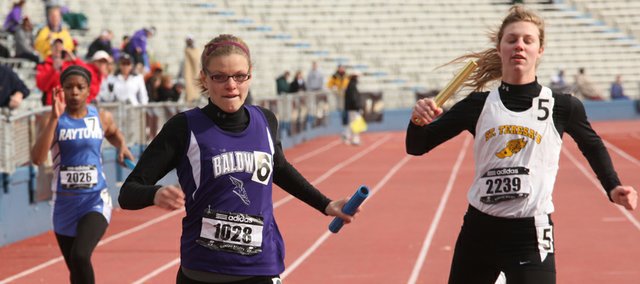 The Baldwin High School girls track team added another first to its list of accomplishments with a first-place finish Saturday in the 4x400-meter relay at the Kansas University Relays.
"We've had individual winners at the KU Relays before, but that's our first relay win," said Baldwin girls coach Ted Zuzzio.
The Bulldog team of Elena Watson, Morgan Lober, Kaitlyn Barnes and Glenn Kelley McCabe prevailed in the Sunflower Showdown relay against an seven-team field with a time of 4:06.7. The field included teams from Lawrence Free State, Lansing, Salina Central, Olathe Northwest, Gardner Edgerton and Leavenworth.
The relays attract high schools from as far away as Wisconsin, Zuzzio said. Kansas Showdown races are the top eight Kansas teams that didn't make the event finals.
An out-of-state competitor did win the shot put, but it was Ottawa junior Kord Ferguson who established himself as Bulldog senior Dayton Valentine's biggest threat to repeat as state champion in that event and the discus. Ferguson, who finished second to Valentine at state last year, was second at the KU Relays with a throw of 60 feet, 5 inches. Valentine finished sixth with a throw of 56-8.5. Valentine was fourth in the discus with a throw of 165-3. Ferguson's throw of 182-1 won the event.
Baldwin boys coach Mike Spielman said Valentine was refining his technique in the shot put.
"He hasn't seen the results yet, but he will," the coach predicted.
Junior Quinn Twombly was fifth in the javelin (156-3), and the boys 4x400-meter relay team of Joel Halford, Darius Johnson, Chad Berg and Dakota Helm was third in the Sunflower Showdown (38.15).
Senior Katie Kehl finished third in the shot put at the KU Relays with a throw of 44-4, which was the best among Kansas competitors. Jessie Katzer's throw of 40-6 was good for seventh.
Kehl was seventh in the discus at KU with a distance of 125-2. It was not one of her better efforts, but she bounced back Monday to finish first at a triangular in Spring Hill with a throw of 138-2.
Both Bulldog teams finished first in the meet as the girls won 12 of the 16 events and the boys seven.
Other standout performances from the girls Zuzzio noted from Monday were Barnes' first-place finish in the 1,600 meters (5:23) and Alexia Stein in the throws. The sophomore finished second to Kehl in the shot and discus and was part of a Bulldog sweep of both events.
The triangular allowed sprinters Berg, Johnson and Halford to run the 200 meters for the first time this season, Spielman said. Berg won that race and the 100 meters, with Johnson finishing second in both.
Spielman also took note of junior Ethan Hartzell's time in the 1,600 meters of 4:35