Baldwin district considering technology fee with iPad introduction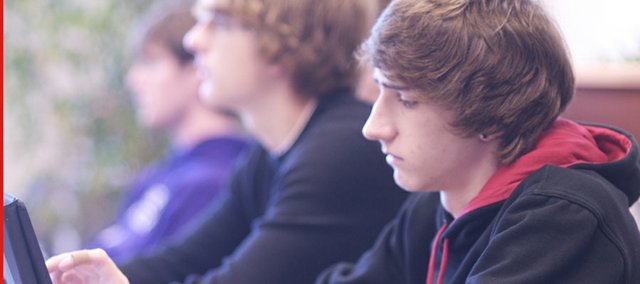 The Baldwin school board Monday approved a student fee schedule for the 2013-2014 school year that was mostly unchanged, but one possible new fee may still be added.
The only fee increase was for meals, which added 10 cents across the board. The board also adopted a $40 flat fee for snack-time milk for students in the 4-year-old program.
Discussed, but not included in the fee schedule, was a possible high school technology fee, which would be associated with the distribution of iPads next school year to all Baldwin High School students. Superintendent Paul Dorathy said a number of options were still being considered for recommendation to the board in May.
District technology director Steve Hemphill said the district has reviewed practices and suggestions of other Kansas districts that have provided iPads to students. Opinions vary about the wisdom of fees and the insurance they pay for, he said.
It was the view of some that students are more "invested" in the care of iPads with fees, Hemphill said. That was the view of the technology director of the Inman school district, who said the district had more problems with broken and lost iPads this year after dropping the fee.
Options used in other districts include fees to fund self-insurance or buy insurance through Apple or making an arrangement with a private insurance provider from whom parents could opt to buy a policy, Hemphill said. Apple's insurance, which would have added more than $100 to the price of the iPads, was not viewed as worth the price given the few problems the district has experienced in its pilot program, he said.
In reply to a board question, Hemphill said there had been a great deal of discussion about families who couldn't afford the fee, which he said could range from $15 to $50 a year. One solution would be to require the fee only for iPads that left the building for the night, but he noted that would prevent those students from using their iPads for homework.
Dorathy told the board the district planned to schedule a meeting with parents in late May or early June about how the iPads would be used and what the district hoped to accomplish with them. Another meeting was planned for August before the start of school, which would introduce the iPads to students, he said.
Finally, the board approved a three-year agreement to borrow money at 2.05 percent interest from Baldwin State Bank to purchase 475 iPads. The debt would be retired with annual payments of $95,949 from the district's capital outlay fund.