Baldwin school board gets request for additional elementary school teacher for 2013-2014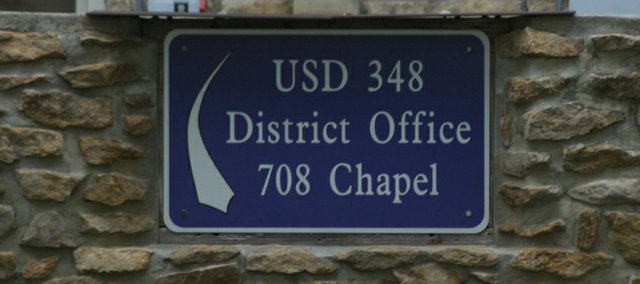 The Baldwin school board received a report Monday from the district's two elementary principals on expected enrollment for next year, which included a recommendation to add at least one new teacher.
Deb Ehling-Gwin, principal of Baldwin Elementary School Primary Center, said her concern was the numbers of first-graders next year.
"We have 95 kindergartners at this point," she said. "Ninety-five first-graders in four sections makes for pretty big classrooms for young students. My recommendation is we add another classroom."
That would cause some space adjustments at the school, Ehling-Gwin said. Another first-grade classroom could be gained by using a current math-oriented activity room for that purpose, she said.
Ehling-Gwin also reported that more parents were choosing the all-day option for kindergarten, now in its fifth year. Parents have enrolled 88 kindergartners for the 2013-2014 school year and have chosen the all-day option for 67 students. That, she said, was one short of four all-day kindergarten sections. However, she said, all-day numbers traditionally decrease as parents reconsider the expense of paying for that option, and she was only recommending three all-day kindergarten sections.
An added all-day section would not require the board to find more money because parents pay for the all-day option rather than the no-cost half-day sections.
Wallsmith said he was projecting 102 third-graders, 94 fourth-graders and 111 fifth-graders for a total enrollment of 307 at the intermediate center next year. With those numbers, five of the school's current 14 classroom teachers would have to be assigned to the fifth grade, he said.
Next year's third-grade classrooms would have 20 or 21 students if five of the building's 14 classroom teachers were assigned to that grade and 24 or 25 if four were assigned, Wallsmith said. The fourth grade would have 18 or 19 students per classroom in five sections or 23 or 24 students with four sections, he said.
If the number of classroom teachers remained at 14, results from assessment tests would determine whether he assigned a fifth teacher to the third or fourth grade, Wallsmith said.
Should the board choose to add a teacher at the intermediate school, the current art room would be used for a classroom, Wallsmith said. Art classes would be moved to the commons, which would eliminate the fifth-grade band program, he said.
Superintendent Paul Dorathy said adding teachers was more difficult in the current budgeting environment than it was 10 years ago. Should he recommend additional teachers for either elementary school, he also would bring a proposal of how to pay for the positions, the superintendent said.
Later in the meeting, board member Sandy Chapman suggested the district consider adding more hours to school days so that schools would be open fewer days. Keeping schools closed on hot August days would save $8,000 per day and 10 fewer August days would save enough to pay the salaries of two teachers, board members noted.
Such an adjustment would require the agreement of the district's teachers' union.
In other business, the board:
• Learned that the closure of U.S. Highway 56 for bridge replacements and reconstruction of the U.S. 56/Lawrence Street intersection was causing traffic delays and snarls. Wallsmith said that work started on the U.S. 56 intersection this week rather than after the end the school year, as earlier announced. Buses can only use the highway to turn around at the easternmost entrance to the intermediate school, he said.
That means, buses have to use Bullpup Drive to leave the school, which is busy with parent pick-up and drop-off traffic, Wallsmith said.
Ehling-Gwin said Baldwin City Police Chief Greg Neis posted an officer Monday afternoon at the corner of Elm Street and Lawrence Avenue where traffic was congested before and after school but would not continue to do so. Neis would convert the Lawrence Avenue/High Street intersection to a three-way stop to help control the added traffic there, she said.
Junior High School Principal Tammy Thomasson said buses were about 15 to 20 minutes late getting to the junior high from the elementary schools, which meant students were getting home about that much later.
• Tentatively set a special meeting for 6 p.m. May 1 with the district architect to learn construction cost estimates for the junior high auditorium remodel project.
• Approved the purchase a 2013 Ford F-150 pickup for $17,030 from Shawnee Mission Ford. The deal included the trade in of a 1994 Chevrolet Suburban.
• Approved a contract with Killough Construction to repave of the bus barn parking lot for $63,355.