Baldwin High School Real World Design team model of teamwork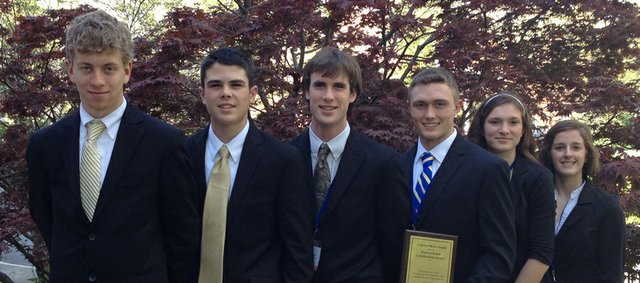 The Baldwin High School Real World Design didn't win its third national championship in finals contested in Washington, D.C., this past weekend, but it did discover the school has become a role model.
Baldwin teams won national championships in 2010 and 2012 and earned a third-place finish in 2011 in the Real World Design Challenge sponsored by NASA, the U.S. Defense Department and private companies. This year's team of seniors Austin Kraus, Abby Clem, Colton Horne, sophomore Quint Heinecke and freshmen Jackson Barth and Kelsey Kehl earned the chance to defend the school's national title by winning the state competition in February.
However in this weekend's national competition, the Baldwin team was not chosen as one of the finalists to give a second presentation before judges.
Past Baldwin teams have won praise for their oral presentations at the finals, which had all team members talk and answer questions about their areas of expertise. This year, the team continued that tradition and returned home with the teamwork and collaboration merit award.
"I feel like that was a good (award) for us," said senior Austin Kraus, a four-year member of team. "It was the team I've probably felt the closest with."
Although it didn't win this year, Baldwin's past success was noticed and copied by others. Kraus and teammate Heinecke, another veteran from last year's national champion team, said they saw echoes of their past presentations, which are posted online at the Real World Design Challenge website, in those given by the winning team from a school from the Commonwealth of the Northern Mariana Islands and others in the competition.
"Imitation is the sincerest form of flattery," Heinecke said. "You could definitely see some of the teams had studied what we have done."
This year's competition was different from the design-heavy contests of past years. It asked teams to create a computerized design of a drone equipped with remotely operated cameras, which would then do computer-simulated searches for a lost Boy Scout in New Mexico's Philmont Scout Ranch. The emphasis on camera function was new.
Also new was the requirement for a business plan, said Pam Davis, Baldwin High School gifted teacher and team coach. So while the Baldwin team was solid in its past strength, earning praise from judges for its oral presentation, it was weaker in elements added this year.
"It was less about the aviation and more about the business plan," she said. "We're sharp on the aviation, but we're going to have to find a mentor to help with the business."
Heinecke said he was eager to be part of the team his junior year, and Kraus, who plans to study engineering next year at the University of Evansville, was reluctant to step away from the competition.
"I think I'm going to stay involved with it in some way," he said. "All the seniors kind of decided that this year."