Baldwin City couple recount experience at Boston Marathon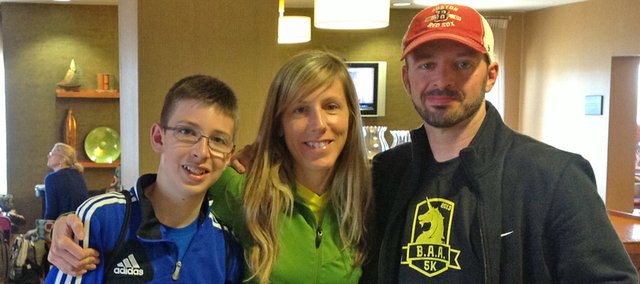 Sarah Harris is not upset that she didn't reach the finish line of this year's Boston Marathon.
Yes, she was would have liked to have run better, as she did last year when she qualified in a race in St. Louis with a personal best of 3 hours, 39 minutes. But the experienced marathoner is glad neither she nor family members who traveled with her to Boston for the April 15 marathon were at the site of bombings or witnessed the carnage that resulted.
Feeling the effects of a training regime limited by winter cold and knee problems, the Baldwin first-grade teacher started the race knowing it wouldn't be among her best.
"When I realized I wasn't going to make it under four (hours), I started walking some stretches," she said.
As a result, the bombs exploded at the race's finish line while she was about 1.5 miles away. It was about 3.5 miles past the point her husband, Kit, and 13-year-old son, Cael, had waited to greet and encourage her.
"When they put up the barricades, I had no idea what was going on," she said. "After about 30 seconds, people started talking. My first thought was that Kit said he and Cael would meet me at the finish line."
With no cell phone and dressed in a short-sleeved shirt and running shorts, she was alone, tired and suddenly cold, Sarah said. Coming to her rescue were two women spectators.
"One woman standing there took off her coat to give me," she said. "They were so kind and stayed with me."
Sarah said it was memories of those kinds of acts she took away form the experience.
"When talking to my first-graders, some were asking about people losing limbs and getting hurt," she said. "I tried to tell them of all the good things people were doing."
As Sarah's race came to an abrupt end, Kit and Cael's plan to ride the subway to the finish line ended with the blasts.
"They said there were explosions up ahead, and we couldn't go any farther," Kit said. "We got off the train and started walking into town."
Helping Kit and Cael cope was a former student. Kit had arranged to watch the race with John Bones, a Baldwin City resident who was in Boston for a six-week Army Reserves assignment, and four of his military buddies.
"John was a big help," Kit said. "Streets were being barricaded everywhere. He knew all the streets and routes."
During that time, Sarah was trying to call or text Kit on a cell phone belonging to one of the women walking with her. But as she and Kit were finding cell phone communication difficult with all the nearby towers jammed with calls from those who lined the marathon's route and the some of the 27,000 runners.
"Every time, I would call out or get a call in, it would drop out," Kit said. "Texts would take forever. The search for service was really frustrating."
Kit managed to get a text to Sarah, saying he was at the Marriott Hotel south of the marathon route. She headed that way with her new woman friends, who were staying near that hotel. After what they estimate was a 7-mile walk for Kit and Cael and a 3-mile walk for the exhausted Sarah, the family reunited south of the hotel.
"When we finally saw each other, we all broke down," Sarah said. "Kit said it was the first time Cael broke down."
Bones and his military buddies stayed with them, even offering to carry her as she struggled to walk, Sarah said. In a final act of assistance, they fanned out on all corners of an intersection to hail one of the hard-to-stop cabs, which took the Harrises to their airport hotel.
The family returned to Boston the next day to find a heavy police and military presence.
"It couldn't have been safer," Sarah said. "You couldn't walk 50 feet without seeing an officer. They were there but very friendly.
"People were out and about. They talked about what had happened but were very respectful."
They also found a heavy police and military presence at the airport the next day as they were leaving for home.
"When we went through airport security, they were asking anybody who had went to the marathon if they had any pictures of the finish line," Sarah said. "Of course, we didn't."
Safe at home with their other two children, 6-year-old Malin and 11-year-old Ty, the couple said the experience wouldn't scare them from running in other major marathons or a return to Boston.
"Kit and I ran the San Francisco Marathon together, and Kit ran the 5K in Boston the day before the marathon," Sarah said. "We've talked about both Kit and I getting qualified for Boston and maybe going back."
They are also looking to organize a local 5K to benefit victims of the bombing.
"We'd like to do something in May," Kit said. "I've been looking around about how to do that. There's one charity, OneFund Boston, I looking into doing some through that."