Fire destroys downtown Baldwin City home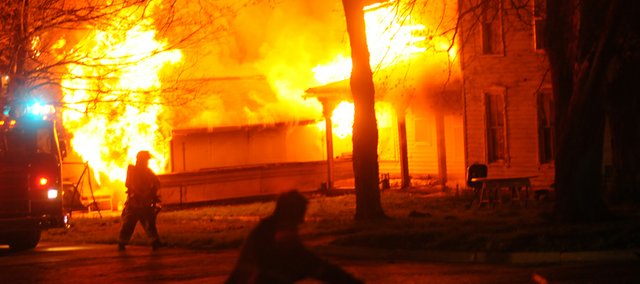 Bob Bennett shook his head early Saturday afternoon as he surveyed the remains of his home.
"It's been there 110 years," he said. "It's gone now."
Bennett has lived in the two-story house at 901 High Street about two years, sharing it the last six months with his daughter Chayla Bennett. A finish carpenter by trade, he was renovating the structure room by room and suspects the fire started in an second-story bathroom he was working on.
"The electrical wiring upstairs was in pretty bad shape," he said. "I was gutted it and was going to add insulation and sheet rock."
In the last year, he rebuilt a failing porch facing High Street and planned to start soon on a second porch facing Eighth Street. Bennett said he couldn't get insurance on the house because of the poor condition of the porches.
Bennett was the only one home at the time of the fire, asleep on a couch downstairs.
Baldwin City Fire Chief Allen Craig said police officers arrived at the home at 901 High Street when the fire was reported by a passing motorist at 1:35 a.m. Saturday. The officers broke though a door to rouse the sleeping Bennett.
"The officers said the room he was sleeping in was engulfed when they got to the street," Craig said.
The Baldwin Fire Department arrived at the home to find its roof and rear section completely engulfed in fire, Craig said. The Baldwin City firefighters aided by units from Palmyra, Willow Springs, Wellsville and Lawrence fire departments contained the fire so that it didn't threaten nearby residences, he said.
"We had eight trucks and 28 men working the fire," he said. "That's a good response to a fire at 1:30 in the morning."
The chief estimated damage from the fire at $150,000. That included damage to the house and pickup truck parked in front of the garage.
Craig said has asked the Kansas State Fire Marshal to determine where and how the fire started.
The American Red Cross has arranged a motel room for Bennett and his daughters.