U.S.

56 closing Thursday for bridge replacements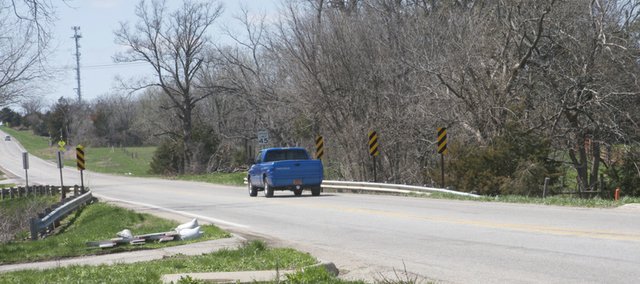 Once again this road construction season, Baldwin City residents will have to use a detour in lieu of a main entry into town.
The Kansas Department of Transportation announced last week that work would start today on a $4.1 million project to replace three bridges on U.S. Highway 56. Starting today, the highway will be closed to traffic from Sixth Street in Baldwin City to East 1400 Road west of town.
KDOT spokeswoman Kimberly Qualls said the easternmost of the bridges is just west of the 10th Street intersection in Baldwin City. The other two bridges are west of the city limits with the western most bridge about 1.5 miles west of Lawrence Street.
All three bridges are to be replaced and the highway reopened by the Maple Leaf Festival in October, Qualls said.
The two bridges west of town are now 24 feet wide, Qualls said. They will be replaced with 44-foot structures that will allow a 24-foot wide roadway with 10-foot shoulders.
At 27 feet, the bridge in Baldwin City is the widest of the three, Qualls said. It will be replaced with a bridge that will accommodate 14-foot driving lanes in both directions plus a 12-foot center lane. It also will have 5-foot concrete sidewalks on both sides.
Another U.S. 56 summer project will add a turn lane to the highway east of Lawrence Street to Bullpup Drive, Qualls said. That joint project of the city, Douglas County and KDOT will start with the end of school and is to be completed by mid-August. It will also improve the sight line to the east of the Lawrence Street/U.S. 56 intersection by lowering the road by 6 feet.
The official detour for the bridge replacement will reroute traffic on U.S. 56 south to Interstate 35 at Kansas Highway 33 and U.S. Highway 59. Area residents will almost certainly use much shorter detours that make use of North Sixth Street, which was closed for a major upgrade last summer.