Kansas Belle on track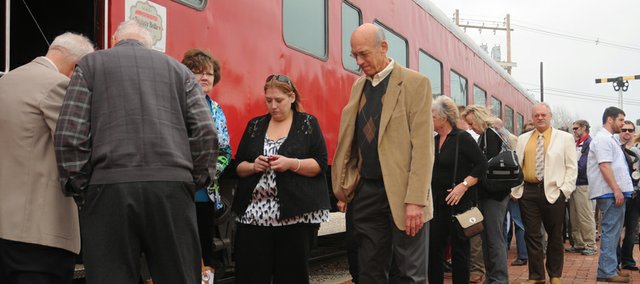 Tara Coleman traveled to Baldwin City from Eudora last weekend with the intent on scratching an item off her bucket list: the Kansas Belle Dinner Train.
As she prepared to get off the train after the four-hour ride, Coleman was happy with trip and the role she played in the murder mystery performed during the 22-mile round trip to Ottawa.
"It was great taking it off on my bucket list," she said. "The food was great, and I think my acting was good."
Mike and Beverly Messer of Overland Park treated Coleman and Carrie Hall of Lawrence to birthday rides Sunday afternoon on the sold-out mystery theater car. A two-man acting troupe—Jim Ross and Bill Wassem of Omaha—entertained those in the theater car with a light-hearted murder mystery after enlisting Coleman and nine other passengers to act out roles. A wait staff of eight served the three-course meal available on Sunday trips to the 56 passengers on the full theater car and a second dining car that was about two-thirds full.
The Kansas Belle Dinner Train has been making the weekend trips from Baldwin City's Santa Fe Depot to Ottawa behind a Midland Railway locomotive since its inaugural run Jan. 19.
"It's still a bit up and down," owner Bruce Eveland said. "Some runs are light. Today was steady. For a Sunday in April, it's very good."
A planned spur line on which the dinner cars will be parked when not in use, which was partially paid for through a $54,000 Douglas County Heritage Conservation Grant, is in the final design stage, and Eveland still is trying to figure out how the train fits in with such important local events as the Maple Leaf Festival.
More importantly, word of the Kansas Belle Dinner Train is just getting out, Eveland said. There have been several recent features on the dinner train in newspapers, magazines and on radio and word of mouth builds with each successful trip, he said.
"Not unlike any business, we need to get people in here and show them a good time," Eveland said. "They'll take care of you if you do that."
The dinner car still is running its winter schedule, which it will maintain at least through the end of April, of Saturday evening and Sunday afternoon runs.
Eveland said the schedule was developed during the 24 years the train operated out of Fremont, Neb. There, Friday evening runs were added when ridership increased with warmer weather.
"Over the years, we've found you have to get the first leaves on the trees." Eveland said. "People like to see a little green."
With the train's relocation to Baldwin City, Friday evening excursions also will depend on an increase in ridership.
"It's a matter of supply and demand," Eveland said. "Right now, Friday isn't justified. I think most people think of Saturday as the most logical night to have an evening out."
Although he expects ridership to increase with longer days and warmer temperatures, fall is historically the dinner train's best season because of the foliage and pleasant temperatures, Eveland said.
Of course, fall in Baldwin City brings the Maple Leaf Festival the third full weekend in October and more than 30,000 visitors to the community.
"I haven't put a lot of thought into that yet," Eveland said. "Last year, we had a booth downtown and I was surprised how many people came to town. Whether or not we do some special things with the train, I don't know yet.
"Midland does some special things. We want to be careful and not get in their way. We'll stand back and see how we fit in."
Another big Baldwin City event, the annual visit of Thomas the Tank Train, will limit the dinner train's runs on the first two weekends of June. Nonetheless, Eveland said it should be a plus for his business.
"The upside is an increase in awareness because a lot of people will see our equipment," he said.
The business is preparing for growth with the renovation of a fourth former Canadian National Railroad dining car, to be named Marais De Cygnes for the river that marks the southern terminus of Midland Railway.
"We do need to get that online," Eveland said. "I don't want to be caught in a situation where we have a group that needs that capacity and we don't have it to offer."
While the dinner train still may be finding its place in Baldwin City, it already is having a positive influence on the area economy, according to TerriLois Gregory, director of development for the dinner train. It is has established a relationship with 23rd Street Brewery in Lawrence for catered meals, as well as working with Theatre Lawrence for performances, a local janitorial service and many other businesses, she said.
"We had 100 different entities we've worked with," Gregory said. "We share information with those buying tickets or riding the train about the Smithsonian exhibit at the Lumberyard Arts Center, the Black Jack Battlefield and other things going on in the community."
In addition to its scheduled trips, the dinner train offers corporate or family charter trips. Gregory said a recent corporate charter trip filled 18 rooms at the The Lodge and prompted bookings at Three Sisters Inn.
Stacy Burkhart, manager of The Lodge, said the motel filled up one night when passengers booked rooms rather than drive home in inclement weather. But she said the motel frequently has requests for rooms from those planning to ride the train.
"In fact, I just booked one this morning," she said.
Eveland said to hoped to build on those relationships as the dinner train becomes more established.
"The situation is so different from Fremont where it didn't seem as through we were welcome," he said. "The community here has been so welcoming and that has made a difference."