Baldwin High School to perform American classic 'Our Town'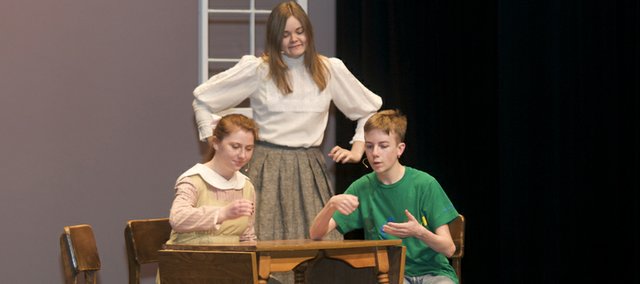 In the view of senior Sammie Weiss, Thornton Wilder's 1938 classic "Our Town" is a natural fit for the Baldwin High School spring play.
"It's a play about a small town, and that's what we come from," she said of the play Wilder set in the fictional town of Grover's Corners, N.H.
The play — as famous for its minimal sets and props as for its story of life, love and death — will be performed at 7 p.m. Friday and Saturday at the Baldwin Junior High School Performing Arts Center. Admission is $5.
Weiss plays girl-next-door and female lead, Emily Webb, a character she said she was determined to play when she read the script last fall.
Her character makes significant transitions in each of the play's three acts. The play marks an important transition for Weiss as well. It will be the senior's final theatrical performance as a high school student.
"It's sad because this is our last play for all the seniors, but it's exciting as well because I'm definitely going to be in theater in college and being in a play this good will help me improve," she said.
The other noted departure from traditional theater Wilder wrote into the play was the role of the Stage Manager, who introduces each act but also sometimes interacts with the characters and knows they are part of a play.
Playing the Stage Manager in the high school presentation is Stephanie Peterson, who said memorizing the long monologues was a challenge.
"I'm a little nervous since I have to do it by myself and don't have anyone to prompt me if I mess up," she said. "But it's gotten to the point it just flows."
Faculty director Christine Lewis said one reason she chose "Our Town" for the school's spring play was to give students a chance to expand their acting skills through the use of pantomime with the absence of props. But she said the play offered other advantages.
"It has a large cast, and I'm always looking for plays with large casts," she said. "It doesn't have many sets and props, and that's nice. We have tables, chairs and ladders and some windows in the background."
Lewis said to make up for the lack of sets, the performance will make extensive use of lighting effects that the 2-year-old Performing Arts Center makes possible.