Baldwin soccer team downs Tonganoxie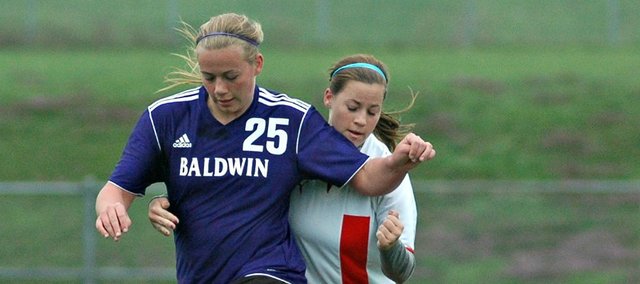 Tonganoxie — Jessie Katzer scored a goal in each half and Sierra McKinney added the decisive score on a penalty kick to propel the Baldwin High girls to a 3-2 win Monday at Tonganoxie.
The Bulldogs drew first blood when Katzer broke free down the middle of the field and ricocheted a shot off the top post and into the net with 23:37 left until halftime, and a back-and-forth battle ensued for the next several minutes. Tonganoxie's Taylar Morgan evened the score with 6:50 left in the period, and neither team found the net again before the break.
Both teams battled for possession early in the second half, but Katzer broke open the tie with another breakaway goal with 16:20 remaining.
"(Katzer) is able to get up from and get one-on-ones because she's able to maneuver and get around people, then she uses her strength to beat them," coach Erryn Kindle said.
Katzer's goals were the first this season to be scored by a Bulldog other than Sierra McKinney.
It didn't take the sophomore long to get in the action. The Bulldogs doubled their advantage less than four minutes later when McKinney scored what proved to be the winning goal on a penalty kick, making it 3-1 BHS with 12:48 remaining.
"Obviously, at the end of the game, that came in handy," Kindle said of McKinney's score. "It's always nice to get as many goals as you can, and having that cushion makes it that much better."
Despite falling behind by two goals, the Chieftains didn't go down without a fight. Mackenzie Price, who came up just wide on a shot attempt after McKinney's penalty kick, cut the deficit in half when she bounced a shot off the right post and into the net with 5:27 left.
That's as close as THS got, though, as Baldwin's defense stiffened in the final minutes. Emily Soetaert broke free down the left side of the field with time running out, but her final shot was corralled with three seconds remaining.
"I know Tongie has come back from down before, so we were mostly just trying to keep them calm," Kindle said. "Once play started, we seemed to stay calm and maintain possession. I was confident."
Baldwin played toe-to-toe Friday with 5A Leavenworth before falling 1-0.
Bulldogs gave up the winning goal with 12:45 to play in the second half when a Pioneer defender, aided by a stiff breeze, got the ball behind Baldwin's defenders and needed only to beat Baldwin goalkeeper Morgan Smith.
Leavenworth's winning goal came right after Baldwin failed to convert on a scoring opportunity right in front of an empty Leavenworth goal and right before a shot on goal from McKinney was just short.
The team plays Topeka-Hayden tomorrow at the soccer field north of the high school. The match starts at 4:30 p.m.
Hayden is the defending 4A state champion.