Smithsonian exhibit drawing well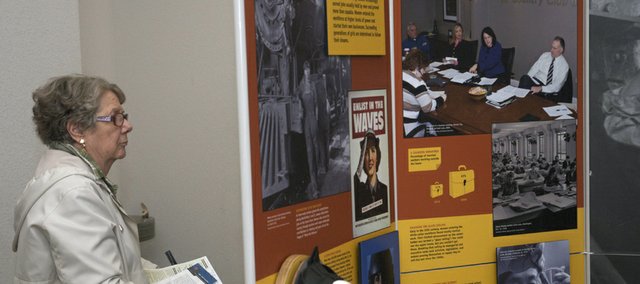 After more than three hours Monday afternoon at the Lumberyard Arts Center, Carol and Julius Brosa, of Topeka, had more to view.
"I still haven't seen it all," Carol said of the traveling "The Way We Worked" traveling Smithsonian exhibition. "I watched the videos of all my old friends."
Smithsonian lecture series
Ann Birney, scholar and partner in Ride Into History, will talk and welcome discussion on how history and ideas shape our lives and our sense of community at 7 p.m. April 23 at the Lumberyard Arts Center.
Isaias McCaffery, history professor at Independence Community College, will be speaking on 19th century rural women at work at 7p.m. April 29 at the Lumberyard Arts Center,
The videos, part of the local effort to enhance the traveling exhibit, are on view in the classroom off the arts center's courtyard and recount the renovation of Lumberyard and oral histories of local work experiences.
Carol, who grew up in Baldwin City and is a 1955 graduate of Baker University, said she and her husband decided to make the visit after being emailed a story on its opening.
Nearby, Baldwin City resident David Olmstead was reading material for one of the first panels in the Smithsonian exhibit, which recounts the last 150 years of the nation's work experience.
"The older generation remembers some of this, but it's nice they pieced it all together," he said.
Olmstead and the Brosa were among the 23 viewers of the exhibit on Monday, said Diane Niehoff, arts center board member and volunteer greeter during the show.
"It's been our slowest day so far," she said.
As of Monday, the show had been open two and a half weeks and had drawn more than 600 people to the arts center, Niehoff said.
With the exhibit in Baldwin City for another three and a half weeks, Niehoff is confident it will break the attendance record of 1,500 visitors established last fall with its first Kansas showing in Lyons.
"Most of those we've had so far have been individuals or families," she said. "We've only had a couple of tours. We have 18 tours coming in the next two weeks. We're shooting for more than 2,000."
The guest book shows the majority have been from Baldwin City or Lawrence, but there is a fair number from cities throughout northeast Kansas, as well as from Missouri.
Neihoff said 22 of those attending were Baldwin City residents who had never been to the Lumberyard Arts Center.
The Lumberyard is benefitting from the traffic through donations placed in a container near the start of the Smithsonian exhibit and gift shop sales of souvenirs and candy specially ordered for the show, Niehoff said.