Retiree finds volunteering helps keep him young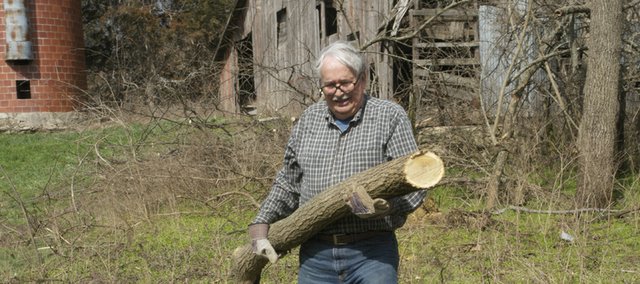 Eight years into his retirement, Gary Sanden doesn't have time for the easy chair.
"I'm busier now that when I was working," he said. "When you start volunteering, it can get out of hand. My wife asks me why I don't do something around the house. Working in the backyard or sitting in the recliner doesn't do it for me."
Sanden and his wife, Maria, moved to Baldwin City in 2005, after he retired from a teaching position at Colby Community College. That was the last stop in the career of the doctorate-level plant pathologist, which included posts in Florida and at the Kansas State Extension Service at Colby.
But no matter where Sanden worked or lived, volunteering was part of his life.
"When I was at Colby, I was commander of the American Legion post, president of the Lions Club and president of the Faculty Alliance at Colby Community College," he said. "Try that some time."
It's been no different in Baldwin City. Not satisfied to simply join the local American Legion post and Lions Club, Sanden started looking for volunteer opportunities as soon as he was a resident.
"The first thing I did when I came here was go to the Chamber of Commerce office and ask Susan Baker about volunteer opportunities," he said. "She gave me the name of Diane Niehoff."
Through Diane and Jim Niehoff, he was part of the effort to renovate the Lumberyard Arts Center, Sanden said.
"I got involved when we were tearing it down and putting it back together," he said. "All that woodwork in the office areas, I helped strip."
He has since found other volunteer opportunities. He travels a couple of times a week to Midnight Farms to help as a "sidewalker" for those getting therapeutic horseback rides at the farm, lends a hand and professional knowledge to the community garden, volunteers at Black Jack Battlefield and Nature Park, teaches a weekly class to seniors in basic money management and helps with the Chamber of Commerce.
The 74-year-old Sanden is also president-elect of the Lions Club, a member of the American Legion and with his wife is active in the Good Shepherd Lutheran Church of Lawrence.
All his community involvement hasn't gone unnoticed. Last month, Sanden received the Baldwin City Chamber of Commerce's Volunteer of the Year Award.
"You don't have to look too hard for something to do if you want to volunteer," he said. "There are plenty of activities.
"My sister says I have a disease: I don't know how to say 'no.'"
Sanden traces his compulsion for volunteering to his parents. They gave time to the local Lutheran Church in Rugby, N.D., and taught him to be grateful for what he had and what came his way, he said.
"I was told to make every day better than how I found it," he said. "I just feel like I owe it. Society paid for my education. It makes me feel useful. I'm just fulfilled by it all."
He said he also had the example of his late first wife, Jean.
"I remember one morning I found her sitting on the bed shaking her head," Sanden said. "She said she had three committee meetings at 11 and didn't know what she was going to do."
Whatever the motivation, Sanden is a role model for community involvement, said Larry Janssen, who Sanden will soon succeed as president of the Baldwin City Lions Club.
"My wife and I have been here since 1997," he said. "We have tried to be involved in different things. Gary wasn't at all slow. He saw an opportunity and actively sought it out. He's really adopted Baldwin and become a positive force in the community."
What he gets back is friendships and a sense of belonging, Sanden said.
"I wanted to move to a place where people wave to you on the street in the morning when you get your mail like in western Kansas," he said. "I now know the people who wave.
"It keeps me fit, and I think it keeps me young at heart. It just keeps me involved with life."
Still, Sanden understands he can't keep up his current pace of involvement indefinitely.
"I suppose as some time it will become too much for me," he said. "When that is, I don't know. I have a 95-year-old mother and a 96-year-old uncle who still drives."