Pottertons leaving Baker/Baldwin City for new opportunity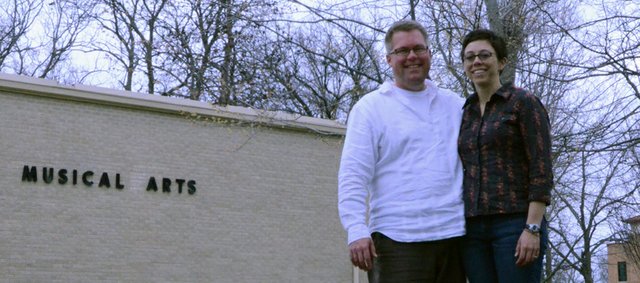 Baker University director of choral activities Matthew Potterton and his wife, Baldwin City Children's Choir director Amy Potterton, have the community singing a sad tune after announcing their family will be moving to Johnson City, Tenn. sometime after Baker University's undergraduate commencement May 19.
The decision to leave was made after Matthew was offered a position as choir director at East State Tennessee University. The decision was purely career-motivated, he said.
"(Baldwin) is a great community and we got heavily involved because we love it and thought we'd be here," Matthew said. "Sometimes opportunities come up that you can't turn down."
Matthew's involvement in Baldwin includes more than his work at Baker. He is the founder and director of the Baker University Community Choir, the conductor of the Baldwin First United Methodist Church and the cantor at Annunciation Catholic Church.
Amy is the founder and director of the Baldwin City Children's Choir. As the director, she's given a students a way to participate in a music program beyond what schools offer. The children's choir has competed at the national level and traveled to St. Louis and New York City during its three years of existence.
"I just wanted to give this community another opportunity," Amy said.
The Pottertons are in the process of searching for candidates for the soon-to-be-open choir director position and will start the interview process for the job soon.
"There's been a worry that the choir will not exist anymore but it will definitely exist," Amy said.
As for the community choir that Matthew started, he is unaware of how the search to replace his position as director of choral activities at Baker is going, but he hopes whoever replaces him will continue the community choir.
East State Tennessee University is a larger state school with about 15,000 students and Matthew said he is excited to have such a large pool of talent to choose from.
"I look forward to making great music. I was able to do that here and I look forward to doing that in Tennessee," he said.
Amy will conduct her final Baldwin City Children's Choir concert at 4 p.m. April 28 at the USD 348 performing arts center.
Matthew will conduct a Chamber and Community Choir concert at 7:30 p.m. Tuesday at Baldwin First United Methodist Church. He'll conduct his final concert for Baker during the spring program at 7:30 p.m. May 3 in Rice Auditorium.