Baldwin girls win second track meet of season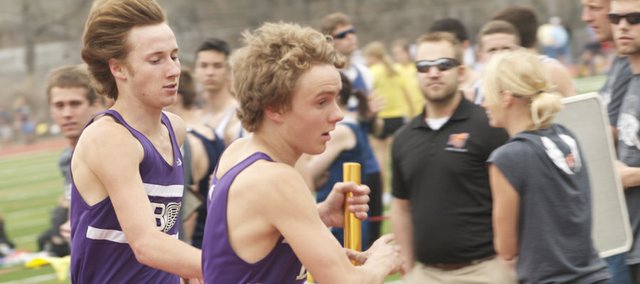 The Baldwin girls cruised to their second track title in as many events in the young season with an impressive performance Tuesday at the Baker Relays.
The girls scored 216.5 points in the 10-team meet, easily outdistancing second-place St. Teresa's Academy of Missouri, which had 139 points.
The Baldwin boys team finished fifth with 92.5 points, finishing behind Liberty (Mo.) North, Bishop Meige, Olathe East and Christ Prep of Lenexa.
As they had in the Baldwin Invitation eight days earlier, the Baldwin girls dominated the throwing events. Freshman Kelsey Kehl claimed her first gold medal for the Bulldogs, finishing first in the javelin with a throw of 108 feet, 9 inches. Earning the silver medal with a throw of 108-7 was senior Jessie Katzer. Jordan Hoffman, Chole Kueffer and Katie Jones finished third, fourth and fifth in the event, respectively.
Kelsey's senior sister, Katie Kehl, was once again golden in the shot put and discus. The Bulldogs swept those events as well. Katzer was second in the shot and fourth in the discus, Hoffman was second in the discus and fourth in the shot, and Alexia Stein was third in both events.
All running events except the hurdles were contested in a relay format. Baldwin girls won the 4-by-400, 4-by-100, 4-by-200, 4-by-100 throwers and 800 sprint medley relays.
Freshman Emma Burnett was second in the 300-meter hurdles with a time of 17.22 and fifth in the 300 meter hurdles, two places behind sophomore teammate Maddie Ogle.
In an encouraging development, freshmen Kehl, Burnett and Carlyn Cole picked up points for the Bulldogs in the jumping events, a rare source of scoring for last year's squad.
The younger Kehl was third in the triple jump and seventh in the long jump. Cole was third in the pole vault and Burnett earned a bronze medal in the high jump and was fourth in the long jump.
Senior Dayton Valentine was once again an easy winner in the boys shot put and discus with throws of 56-7 and 160-11, respectively. His closest competitor in the shot was sophomore teammate Christian Gaylord, who edged closer to the 50-foot club with a second-place effort of 48-4.25. Bulldog junior Quinn Twombly was fifth in the discus and shot and fourth in the javelin.
Baldwin will compete today and Friday at the Wichita Pre-State Classic. Boys coach Mike Spielman said paired down squads will compete against 4A to 6A teams. Baldwin athletes would test themselves against the state's best and gain experience at the site of the state finals, he said.