Baldwin girls tie Lawrence, lose to Spring Hill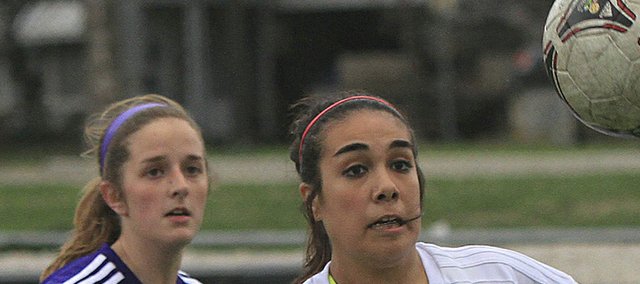 The Baldwin High School girls soccer team is still looking for its first victory of the season but it does have a notch in its gun barrel.
The Bulldogs came back from an 0-2 deficit Monday to fight Lawrence to a 2-2 tie when neither team scored in two overtime periods. Baldwin's two goals in the match against a 6A team on the road were the team's first of the season. Sophomore Sierra McKinney scored both.
"I would have liked to have seen us start a little stronger and not let those two goals in," said coach Erryn Kindle. "But the girls didn't give up. It felt good to come back against a much bigger school."
Behind by two goals at the end of the first half, Baldwin narrowed the deficit to one when McKinney took away a Lawrence pass and fired it into the net off the goalkeeper's fingertips in the match's 53rd minute.
The Bulldogs scored the tying goal with 2:07 left in the match. Baldwin's Kate Dixon took a free kick from near midfield, which bounced out in front of McKinney, who put the ball away in the upper-left corner to tie the game.
That was the end of scoring, as neither team found the goal in the remainder of regulation or 20 minutes of overtime. Kindle said his team played well on defense the last 60 minutes of the match.
"Our goalkeeper, Morgan Smith, played exceptionally well," Kindle said. "She was reading the ball well off peoples' feet, coming out when she had to and making great saves."
The team was upbeat after the game, but not celebrating the tie, Kindle said.
"They felt like they would have won if they had more time," he said.
But the effect of the extra time showed up in Tuesday's 7-1 loss at Spring Hill, Kindle said. The Broncos scored four goals in the second half to pull away from the Bulldogs.
"All the excitement, the extra playing time and the extra effort, I think it caught up to us," Kindle said. "We ran out of gas. We weren't moving at the end."
McKinney scored the Baldwin goal on a penalty kick.
The Bulldogs (0-4-1) will play its second home match of the season Thursday against 6A Leavenworth. Kindle said if the team plays with the effort it showed in the Lawrence, it would be a competitive match.