Baldwin seventh-graders shares Civil War enthusiasm with fellow students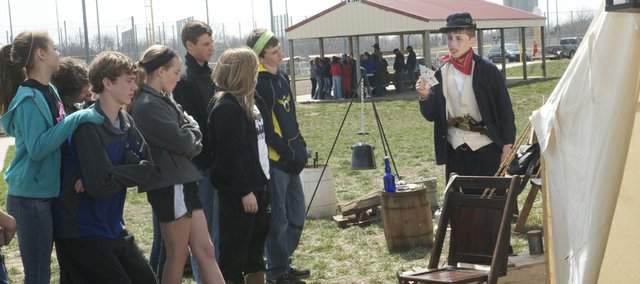 Although it couldn't compete with the flash of a cannon blast, a humble campsite was second on fourth-grader William Damet's list of favorite things at a Civil War encampment Friday at Baldwin Elementary School Intermediate Center.
"I liked it because we got to see and learn a lot of stuff from the Civil War," he said.
That was the point of the encampment, said Ryan Todd, the Baldwin Junior High seventh-grader who organized the encampment for the second straight year for Baldwin City elementary school and junior high students. The event drew Civil War re-enactors from the Sons of Union Veterans of the Civil War and the Lawrence-based Battery B of the 3rd Kansas Light Artillery, which brought a cannon to show and fire.
Todd and his father, Mike, set up at the school the campsite they take to Civil War re-enactments. It was one of four stops students made in a tour of the encampment with the battery, a display of Civil War soldiers' weapons and trapping of other re-enactors and tales from a woman in full mid-19th century garb.
As classes visited the encampment Friday, Todd, wearing his blue Union wool uniform, told students about the artifacts in the campsite and the dangerous roles soldiers his age played in the war.
"I was happy to come back to teach them more about the Civil War," Todd said. "They were asking a lot of questions about the tent and how they cooked and what they did during their free time."
Intermediate School Principal Dan Wallsmith said he was pleased a former student at the school had the opportunity to share his excitement for a subject he had studied in-depth with other students.
"I like it because it affords our students a chance to really experience something hands-on rather than just reading about it in a book," he said. "It makes the subject come alive for them."
Last year, Ryan and his father traveled to Tennessee to participate in re-enactment activities marking the 150th anniversary of the Battle of Shiloh. This summer, the two are headed to Pennsylvania with the 3rd Kansas Light Artillery for the 150th anniversary of the Battle of Gettysburg. There, they will help act out two of the battle's engagements with as many as 30,000 other re-enactors during a five-day event.
"We will be doing Little Round Top and Pickett's Charge," Todd said. "I'm excited about Pickett's Charge. That will be the biggest re-enactment of the battle."