Off and running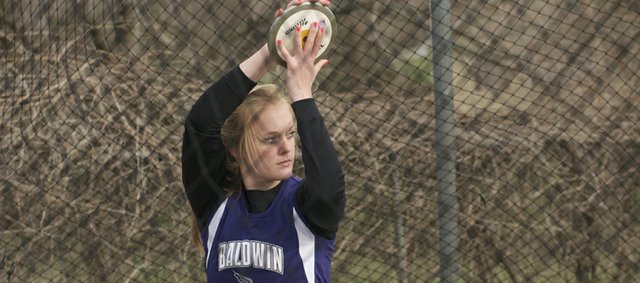 The Baldwin Bulldog track teams started a new track season Monday with an familiar winning formula.
Undeterred by weather-forced, four-day delay in the event, the Baldwin girls and boys teams dominated the throwing events and relays to finish first in the Baldwin Invitational track meet. The boys racked up 116 points in outdistancing the 98 points of second-place Olathe Northwest. The girls were even more dominant, finishing with 197 points or more than 100 points better than runner-up Olathe Northwest.
BIT results
Team scores
Boys: Baldwin, 116; Olathe NW, 98; Blue Valley SW, 87.5; Perry Lecompton, 84; Lansing, 76; Bonner Springs , 74; Pittsburg, 54.5; Basehor-Linwood, 45; Anderson County, 44; Wellsville, 22.5; Spring Hill 17.5; Jeff West, 12; Eudora, 9
Girls: Baldwin, 197; Olathe NW, 95.5; Pittsburg, 70; Anderson County, 54; Basehor-Linwood, 51; Lansing, 48; Perry Lecompton, 46; Spring Hill, 43; Blue Valley SW, 41; Eudora, 37; Wellsville, 27; Eudora, 37; Bonner Springs, 6
Baldwin top-10 finishers:
Girls: shot put; first Katie Kehl, 43-7, second Alexia Stein, 38-3, fourth Jessie Katzer, 36-1.5; discus, first K. Kehl, 129-10, second Jordan Hoffman, 124-3; third A. Stein, 113-9; javelin, first J. Hoffman, 116-9, third J. Katzer, 111-9, sixth Chloe Kueffer, 98-10; pole vault, fourth Carlyn Cole, 7 foot; steeplechase, third Hollie Hutton, 9:06.51. sixth Kelsey Dighans 9:36; 100-meter hurdles, third Maddie Ogle, 17:48; 100 meter, fourth Carlyn Cole, 13.61, seventh Kyna Smith, 13.85; 1,600 meter, fifth Sienna Durr 5:55.58, sixth Addie Dick 5:55.64, 400 meters, first Glenn Kelley McCabe 1:02.16; second Morgan Lober, 1:02.98; fifth Kelsey Kehl 1:07.23; 300-meter hurdles, second Maddie Ogle 49.69, fourth Emma Burnett 53"16, fifth Corey Valentine 53:48; 800 meters, second Kaitlyn Barnes 2:25.53, fifth Fayth Peterson 2:36.7, seventh Hannah Hutton 2:38.42; 3,200 meter, fifth Sienna Durr 13:15.21, seventh Addie Dick 13;19.66; 4 by 100, first () 51.93; 4 by 400 first () 4:17.84; 4 by 800, first. () 10:32.46
Boys: Pole vault, seventh Joel Katzer 10 foot; shot put, first Dayton Valentine 55-10, second Christian Gaylord 49-2, eighth Quinn Twombly 45-4; discus, first D. Valentine 154-6; seventh Q. Twombly 122; javelin, second Q. Twombly 149-8, eighth Jake Katzer 128-10; steeplechase, first Joe Pierce 6:52.13, fourth George Letner 7:18.09, fifth Zach Smith, 7:20.75, ninth Nevin Dunn 7:33.74; 110 hurdles, sixth Jake Katzer 18.7; 100 meters, third Chad Berg 11.58; 1,600 meters, first Ethan Hartzell 4:36.61, 400 meters, 10th Jake Katzer 56.80; 300 meter hurdles, fifth Joel Katzer 45.67; 800 meters, seventh Dakota Helm 2:12.50; 3,200 meters, first E. Hartzell 9:59.52, fourth Joe Pierce 10:46.74; 4 by 400, second () 3:36.17; 4 by 800, eighth () 9:15.94
"The kids really did a great job of managing the weather and the change in dates," boys coach Mike Spielman said. "The throwers had a huge day. Dayton (Valentine) was great, and Christian Gaylord and Quinn Twombly had big PRs.
"I though the really outstanding races were Ethan Hartzell in the 1,600 and 3,200 meters, Joe Pierce in the steeple chase and 3,200 and Chad Berg in the 100-meter dash."
Both Bulldogs teams used their strength in the relays and throwing events to finish second in the 4A finals last May. If Monday is any indication of the season to come, the Bulldogs could be deeper and stronger in the throwing events this year.
Once again, senior standouts Katie Kehl and Dayton Valentine were golden in the shot put and discus. Undeterred by the cool weather that curtailed outdoor practice time, Kehl broke the meet record in the shot put with a throw of 43 feet, 7 inches.
But the two weren't the only Bulldogs with noteworthy days. Baldwin swept the girls discus with sophomores Jordan Hoffman and Alexia Stein finishing second and third. Stein was second to Kehl in the shot put, and senior Jessie Katzer came through with a fourth-place effort.
Completing Baldwin's impressive day in the throws as Hoffman's gold-medal performance and Katzer's third-place finish in the javelin. Senior Chloe Kueffer was sixth in the event.
Finishing second behind Valentine in the shot put was sophomore Christian Gaylord, whose throws improved throughout the day and whose last throw of 49-2 earned him the silver medal over Basehor-Linwood senior Ben Johnson. Baldwin junior Quinn Twombly finished eighth with a 45-4 effort.
Twombly was second in the javelin (149-8), while Bulldog freshman was Jake Katzer was eighth in his first high school competition with a toss of 128-10.
The Baldwin girls swept the relay events.
"We had good times in all the relays with the weather conditions," girls coach Ted Zuzzio said. "The 4-by-100 team had a very nice time for this early."
Finishing first in the 4-by-100 and 4-by-400 meters was the team of Elena Watson, Morgan Lober, Kyna Smith and anchor Glenn Kelley McCabe.
Senior McCabe also claimed the 400-meter gold with Lober finishing second.
Lober collected gold again as a member of the 4-by-400 team, which also included Hannah Hutton, Fayth Peterson and anchor Kaitlyn Barnes.
Freshman Carlyn Cole finished third in the 200 meters and fifth in the 100 meters. Fellow freshman Kyna Smith was fourth in the 200 meters and seventh in the 100 meters.
Hartzell started his junior campaign with gold-medal performances in the 1,600 and 3,200. Sophomore Joe Pierce was fourth in the 3,200 and won the grueling 2,000-meter steeplechase. Freshmen George Letner, Zach Smith and Nevin Dunn were fourth, fifth and ninth in the race.
Sophomore Maddie Ogle provided points for the girls in both hurdle events. She was third in the 100-meter hurdles and second in the 300.
The boys team of Joel Halford, Berg, Mark Harman and Darius Johnson finished second in the 4-by-400.
Harman was third in the 300-meter hurdles and freshman teammate Joel Katzen fifth.
The teams will compete today at Eudora and be at Liston Stadium again Tuesday for the Baker Relays.