Pearse elected Baldwin City mayor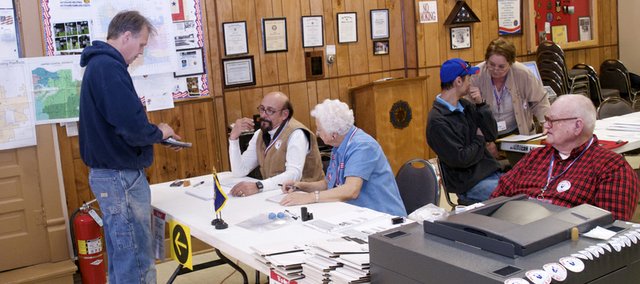 Marilyn Pearse will return to public life after a close victory over Jason Mock in the race for Baldwin City mayor.
A member of the Baldwin City Council for 16 years before stepping down in 2005, Pearse received 235 votes to Mock's 222 in unofficial election results released by the Douglas County Clerk's Office. Bonnie Plumberg, like Mock a current council member, was third with 99 votes.
Mock, who has two years left on his council term, will be joined on the council by first-time candidates Kathy Gerstner and Christi Darnell. Grestner received the most votes in the race for the two open council seats with 408 votes and Darnell was second with 329 votes. Another first-time candidate, Michael Paulick, received 161 votes.
Gregory Kruger won the only contested race for the Baldwin USD 348 Board of Education with 414 votes to 275 for Toby Ebel. Joining him on the board will be Nicole Tiller, who racked up 574 votes in running unopposed for the board's District 2, Position 1 seat.
Also re-elected to serve the remaining two years of the term of the board's at-large seat was Sheryl Gill. She was appointed to the seat in June 2012.
There were no results released for a fourth board seat for which no candidates filed. The clerk's office will start counting write-in ballots Wednesday and the eligible residents receiving the most write-in votes will be offered the seat. Ivan Huntoon and Kathy Davis said before the election they were write-in candidates for the post.
Election results will remain unofficial until canvassed later this week.